You need to keep your valuables and protect your Minecraft family. One of the best ways to keep them safe is to build a fence or a wall so that no one can escape. Whether you need to install a fence or not, most of them can't decide and gets many questions in mind as to why you should make a Fence. However, there are different reasons for installing a fence as it will not only secure your family but will also improve your house value.
If you make Fence in Minecraft, your family is safe, as there is no place where crime doesn't take place, so it's better to be safe. Moreover, it will be hard to know where your property lines are, so if you have a fence then you will know the boundaries between your and the neighbor's land.
This is why fences are important in Minecraft. Let us check out how to make a Fence in Minecraft to keep everything safe and secure.
How to Make a Fence in Minecraft?
While starting your journey in a new world of Minecraft, Fences are the first things you will need. There are 8 different styles of fences available, the humble fence is mostly used by the builders.
The types of Fences available in the game are oak, spruce, birch, jungle, acacia, dark oak, nether brick, and warped. To craft any of the fences, the process is the same as shown above, just you need to replace the desired wood planks like if you want to make a jungle wood fence, then use jungle wood planks.
If you want to create any other fence like spruce, birch, jungle, or any, then you will need:
Oak Fence: 4 sticks and 2 oak planks
Spruce Fence: 4 sticks and 2 spruce planks
Birch Fence: 4 sticks and 2 birch planks
Jungle Fence: 4 sticks and 2 jungle planks
Dark Oak Fence: 4 sticks and 2 dark oak planks
Acacia Fence: 4 sticks and 2 acacia planks
Where can you get Fences?
There are two ways of getting Fences, either you can craft them or can find them naturally in Villages, Strongholds, and Mansions.
Checkout: How to Build a Perfect Circle in Minecraft?
How to Craft a Fence?
First, let us check out the materials or ingredients that are required to craft a fence (Fence Recipe Ingredients).
Now, follow the step-by-step guide to craft a Fence.
First, open a crafting table menu
Now, place the Wood planks and sticks as shown in the image below.

Click on the fence out of the crafting table and add it to your inventory.
Also Check: How to Make Lead in Minecraft?
How to Make a Fence Gate in Minecraft?
The fence gate helps you to get in and out of that particular area. So, you need to craft a fence gate, here's how you can craft it:
Open the Crafting Menu and place the items in an order as shown below.
Put the wood plank in the second box, a stick in the third box, and the first box. Repeat the process in the second row.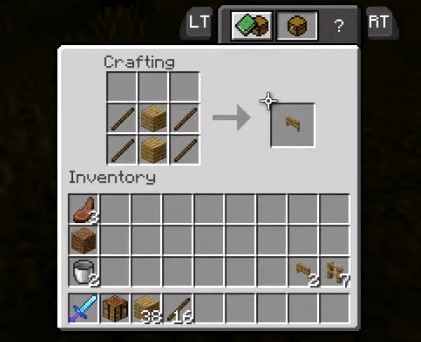 That's it! The fence gate is created.
Now, let us check out how to build the sides of the Fence gate in Minecraft.
As we have got the required materials now it's time to add them and make a gate.

Look for an open area to build the Fence.
Select any one fence item in the Hotbar.
For example, take 20 of the fence and place each to build one side.
Now, target the block that is next to the fence and place another fence (any that you have selected first. eg. oak fence)
The corners will automatically be created to join the two sides.
Continue to place the fence, until all four sides are built. Keep one block open to make a gate.
Now, select the gate and place it in the empty space.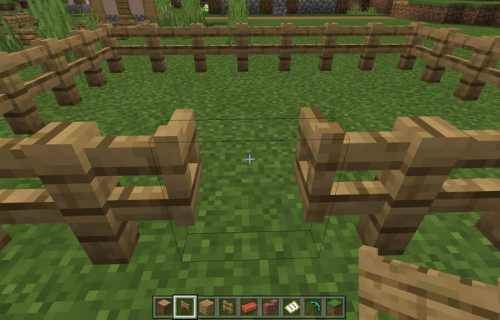 How to place a Fence or Wall?
First of all, place your Fence or a Wall in the Hotbar and select it.
Go to the place where you want to place Fence.
Now, if you are using a
PC do Right-click on the target area,
Mobile click on the area, and
Console users should face the target area and press the Left Trigger button.
Now, you can make a fence or a wall to built all four sides and then add a gate, as shown above.
Also Read: How to Make Saddle in Minecraft
Can Villagers Jump over Fences?
No, they can't jump nor open the Fence gates.
Can Mobs Jump over Fences?
Except Horses, no other mob can jump over Fences.