Minecraft is a sandbox video game where you can bring out your creativeness.  As, in the Minecraft game, you can create anything you want to by using the ingredients available in the game. The game is so popular with millions of players globally.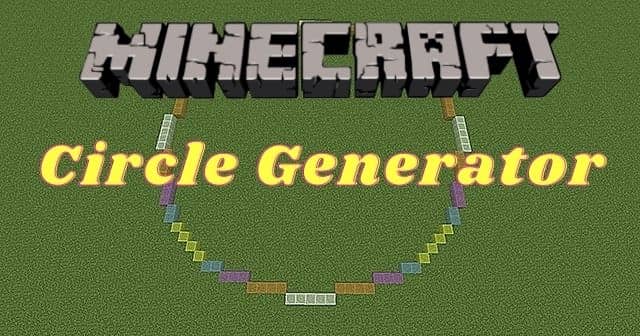 In Minecraft games, mostly the squares and blocks are used to make anything. But what can you do if you want to make a circle? It is a little bit tricky to build a Circle but there's a trick to generate a circle in Minecraft. This comprehensive Minecraft circle guide will explain you how to build or create a perfect Circle in Minecraft, using Minecraft Circle Generator Command or Tool .
How to Make Circles in Minecraft? [Guide]
While creating a circle in Minecraft, you need to keep in mind that, the more big circle is, the more it will look like an actual circle. As the blocks in the game are not available in circle shape if you make small circles it will look like blocky blobs and not in a round shape.
The main thing you need to keep in mind while building a circle in Minecraft is you must know where to put the blocks.  Don't worry, here we are to help you out and explain to you how to build a circle in Minecraft by using the Minecraft Circle Generator.
Method 1: Build a Circle using Circle Generator
Minecraft is a popular game around the world and has a huge player community. So, there are few players who help others to build a circle. These players have created a Minecraft Circle Generator tool, which guides you on where to put your block to create a circle. Using these tools is completely free and easy to get it.
Let us check out how to use Minecraft Circle Generator.
There are few tools available that help you to create a circle in Minecraft. Here we are going to talk about Pixel Circle / Oval Generator.
DonatStudios Pixel Circle / Oval Generator
You can use the DonatStudios Pixel circle generator tool to make circles and ovals of any size. To create a circle, first you need to enter the diameter of the circle in Width or Height as a circle has the same height and width. And also, select the style like thick, thin, or filled.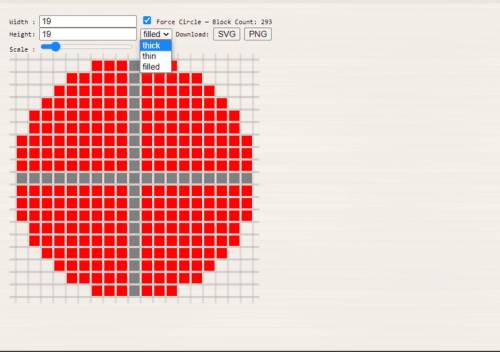 If you want to create an oval shape, then uncheck the Force Circle box that is beside the Width option. After that enter the height and width of the oval.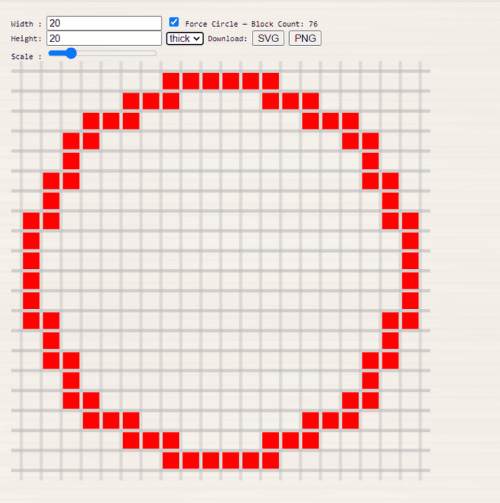 Now, as we know how the circle should like, let us check out how to build it. Follow the steps to build a circle in Minecraft:
For a circle, first, you need to build 2 perpendicular diameters.
If the diameter is an odd number, then build them with 1 line per diameter. And if it's an even number build it with 2 lines per diameter.
Now, Build a filled circle
Now, build a filled circle. For this, you must start from the inside with big lines first and then create the small line.
Keep repeating until you reach the end of the diameter.
Repeat the same process for the other side, and check out the results.
Build a circle with no fill
In this way, you can build a filled circle and then remove all the blocks that are inside, and make it look like a circle.
If you don't want to fill in the blocks, then follow the steps:
You will need 2 diameters for this also, later you can delete them.
Start from outside with the biggest line. For this, you can use Minecraft Circle Generator to see how many blocks are needed.
Now, build short lines behind the first one. Keep making short lines to create the arc for the circle.
Likewise, finish half of your circle and then rotate it to finish the other half.
Look at the circle and check if it's perfect or not, if yes then destroy the diameters.
This is how you can create a circle instead of building manually, using pixel circle generator tool know as Donat Studios .
For more details, you can watch the video and understand:
Method 2: Create Circle Using Blocks
Follow the steps to create a circle in Minecraft using 5 blocks.
Place 5 blocks in a horizontal row.
At the end of the 5th block row, move up one block and place 4 blocks in another horizontal row
Follow this sequence outward till you have 1 block left
Now, go upward, on the right side, from the upper right-hand corner of the block, move 1 block out and add 2 vertical blocks.
Continue this, till you reach 5 vertical blocks.
Repeat the process on the left side till you reach 5 vertical blocks.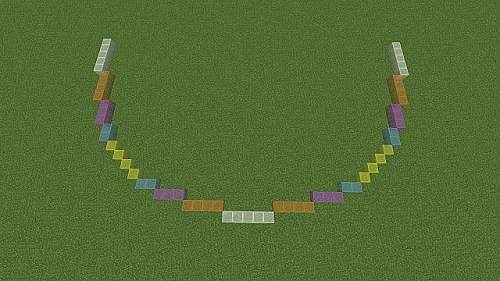 Simply, repeat the first three steps in reverse:
Inside the circle, place 4 vertical blocks and make your way down to 1 vertical block.
Inside the circle, place 2 horizontal blocks till you reach 5 horizontal blocks.
That's it! Your Minecraft circle is completed.
To make your circle look more attractive, you can use any blocks you want. There are many texture packs and mods that can make your blocks look cool. So this is it. Hope you were able to follow the guide and create beautiful circles in Minecraft. If you know any other tricks or guides on Creating Circles in Minecraft then let us know through the comments below. If we find it helpful then we will add it in this guide along with credits to your name. 😉