There are so many online games available on the internet including Minecraft, COD, Free Fire, etc. Every game has different gameplay, and each of them has its own fan base. Today, we are going to talk about Minecraft. In this game, you can build so many things like a house, castle, fancy nether portals, bridges, or statues. You can select any of them and have fun while building it. Generating circle in Minecraft is a tedious and tough job, anyways, our guide might have proved it otherwise if you followed it properly.
As you build anything in the game, you will be needing some stuff to make it. It depends on what you are building. So, today here we will show you how to make Lead in Minecraft. A Lead is an important item in Minecraft when you have horses. You can use lead to tie a horse and then use it as a leash to guide your horse. Or you can also use lead to tie a horse so that it does not run away.
Let's see how to make and use Lead in Minecraft. So this is the ultimate guide on Lead Recipe in Minecraft!
Where can you use Lead in Minecraft?
A lead can be used on any "mob" or mobile creatures like sheep, horses, cats, dogs, and more. You can use it to trail the creatures behind you or can tie them up to a fencepost.
Required Materials to make Lead
The ingredients that are required for Lead recipe or the materials that you need while making Lead is as follows:
1 Slimeball
4 Strings
A horse or some other passive mob
Strings: With 4 strings you can make two leads. It is dropped by fallen spiders which are found in chests and are crafted in the Crafting Table by using cobweb.
Slimebal: Slimeball is dropped by fallen slimes, which are found bouncing around in the dark with Swampland biomes.
You can use a horse or any other passive mob. If you want to use a horse, then you will find it in herds of two to six eating grass in Plains and Savanna biomes.
How to make Lead in Minecraft?
Lead Crafting Recipe: To craft a lead in Minecraft, make sure you insert the ingredients properly in the crafting grid. You will need a 3×3 crafting grid where you will place 1 slimeball and 4 strings.
In the first two boxes of the first row, place two strings
Under that, place a slimeball and a string
In the last box of the last row, place a string and move the lead
Follow the step-by-step guide to make a Lead in Minecraft.
Step 1: Open Crafting Menu 3×3 Grid
Firstly, open the crafting table of 3×3 grid, looks like the picture shown below: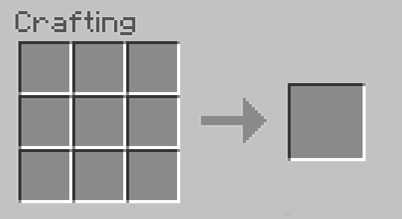 Step 2: Now add items to make a Lead
In the crafting grid, add 4 strings and 1 slimeball. It is important to place the strings and slimeball in a correct manner as shown in the picture. Place 1 string in the first box of the first row and 1 string in the second box.
Now, place 1 string in the first box of the second row and 1 slimeball in the second box.
Pace 1 string in the third box of the third row. 
This should be followed exactly as it is shown. This is the recipe for crafting Lead in Minecraft. As the ingredients are placed in a correct manner, a lead will be shown in the box on the right side.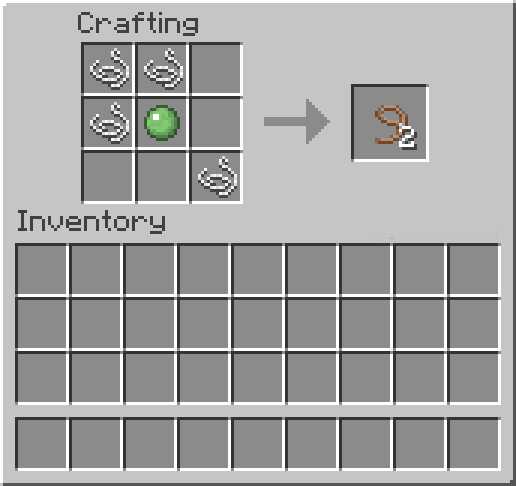 Step 3: Drag the Leads to Inventory
As you have crafted leads, now you need to move them into your inventory. That's it! You have successfully created Leads in Minecraft.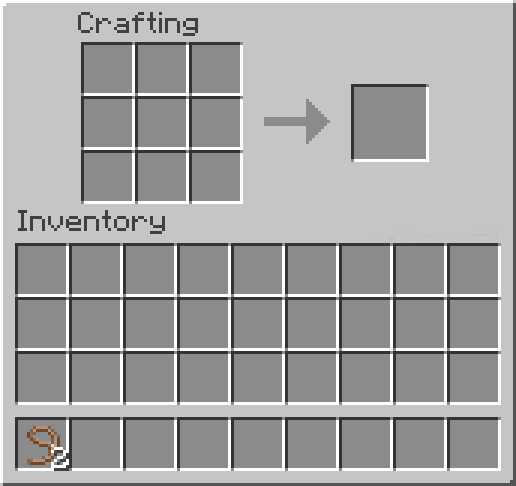 As we have made Leads, now let us check out how to use it in the game.
How to use Leads in Minecraft?
It is very easy to use Lead in Minecraft:
Step 1: Take a lead from the inventory to Hotbar
Step 2: Select the lead
Step 3: Lead your mob
If you are using Mobile then click on Mob.
Any Console then Target the mob and press the left trigger button.
PC: do right-click on the mob.
One end of the lead is connected to the mob and the other one is in your hand, then follow:
For PC: Do right-click on the fence.
Console: Target fence and press left trigger.
Mobile: Click on Fence.
If you are away from the bed and you don't want your horse to move around, then you can plant a fencepost and tether your mount.
Checkout: Full List of GTA Vice City Cheat Codes for PC, PS4 and Xbox
How to Remove a lead?
If you want to remove a lead, follow the given steps:
For PC: Do right-click on the mob
Console: Target the mob and click on the left trigger button
Mobile: Click on the mob.
The lead will fall to the ground.
If you don't understand this, then check out the Youtube video:
List of Mobs or Animals on which Lead can be used
bees
cats
chicken
cow
dolphins
donkey
foxes
hoglin
horses
iron golem
llama
mooshrooms
mules
ocelots
parrots
pigs
polar bears
rabbits
sheep
snow golems
squid, striders
wolves,
zoglin
Also Check: Free Fire for PC without BlueStacks Emulator
Conclusion
You have learned how to craft a lead in Minecraft. Lead is a useful tool for leashing up different mobs and animals. We hope this article was helpful to you. Keep sharing it with others.
Do visit our site for latest updates of all the games like COD Mobile, Free Fire, Battlegrounds Mobile India, and More.