Recently, Call of Duty: Mobile has released a season 11 update. With this update, all the players expected the Zombie mode in season 11, but the developers did not bring it. Season 11 update was the game's first-anniversary update with a lot of amazing content.
Were you waiting for Zombies mode? Don't worry, as the developers are teasing the "Undead Fog" game mode. This mode is coming for Halloween 2020. This Undead Fog game is not the original zombie's mode, but it will be like Zombies. As per the reports, the mode will "reference" zombies.
COD Mobile Zombies Mode Will Be "Reference" Zombies in the coming Update
In the Battle Royale game, the developers have released the "Alcatraz" map.  Even a new place called "The Club" is out in the COD Mobile game. Apart from that, the Standoff Halloween Map is also playable in Season 11.
Most of the players of Call of Duty: Mobile was not happy, as the Zombies mode didn't come in the update. But, the recent updates by the Call of Duty Mobile community says, a user asked the developers about the new update on Zombies. To which they replied, the players will see "something referencing zombies this Halloween. but it isn't Zombies mode itself."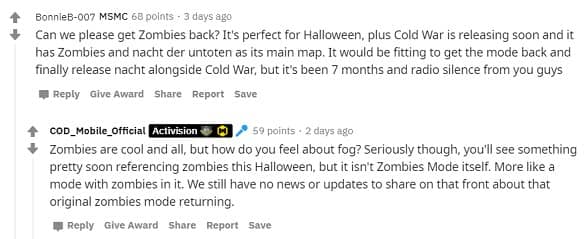 According to these updates, we can say the upcoming "Undead Fog" game mode will be a similar thing to Zombies, which we will see in the next update of Call of Duty Mobile season 11. Additionally, there are no other details on the original Zombies mode. It will return or not. We don't know anything. So, we can say that the Zombies mode is not coming to Call of Duty Mobile anytime soon.
Earlier, this year in March, Call of Duty Mobile has removed the Zombies game mode. The developers removed this mode because they wanted to improve the multiplayer and Battle Royale resources.
The Zombies mode might come back after improvements. We need to wait for the official announcement on the Zombies mode is coming back or not.