PUBG New State was announced in February 2021 and since then the fans are eagerly waiting for the game to release. It is the upcoming title from the PUBG franchise and has gained a lot of attention because of it. Recently, the developers of the game have released two new locations of the game before the alpha test release.
Details of PUBG New State New Locations
Krafton has already announced the pre-registration for the game and has got success and then decided to bring some more action in the game. PUBG New State has posted a tweet from its official website and has announced the new locations, Exhibit Hall and The Mall.
The world of science once promised mankind a new way of life.
However, some were critically skeptical of what goes on in the laboratory😱
That curiosity from the past brings back today's survivors into the mysterious building.

Beyond Battle Royale, #PUBGNEWSTATE pic.twitter.com/M45tzuqe2E

— PUBG: NEW STATE (@PUBG_NEWSTATE) June 7, 2021
PUBG New State is set in the year 2051 and will bring drones, combat rolls, weapons, vehicles, and a futuristic theme. The game has shown few glimpses of the map Troi via the social media platform Twitter.
Exhibit Hall Location
As the game is set in the year 2051 all the fans are excited to see a glimpse of the game. Krafton has teased a new location named Exhibit Hall, it will be popular for the survivors. This is the first location revealed by PUBG New State. The developers are hinting that this location will be a major point for weapons, ammunition, and other items.
The Mall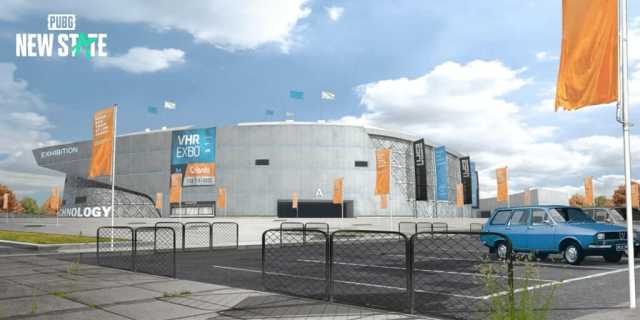 This is another location teased by PUBG New State, where you will find nice loot and equipment. This announcement comes few days before the Alpha Test Launch in America.
What is PUBG New State?
It is a new addition to the battle royale game, which is set in the year 2051 with advanced features. PUBG New State will have customized weapons.
In a press release, the developers said,
 "A new in-game weapon customization feature, players can make various weapons their own by obtaining customization kits. These kits will transform weapons in different ways, such as performance enhancements, fire mode selection, and grenade launcher attachments."
At present, the Alpha testing will be done only in the US region. This data will be used to make changes before the stable release will be done.
When will PUBG New State Release?
The official date is not announced but as per the reports, the game might come in the second half of 2021 or starting of 2022.