Battlegrounds Mobile India has many different in-game elements that players can use to make their profile look different. One of the elements is using the well-liked title.
The well-Liked title is one of the easiest titles to achieve in Battlegrounds Mobile India. In this, you don't need any special skills also. Here we have brought a complete guide on how to unlock a well-liked title in BGMI.
How to Unlock Well Liked Title in BGMI?
To achieve a Well-Liked title in BGMI, the players need 1000 likes from the other teammates. However, it's not hard to achieve likes if you regularly play squad matches.
Tips to Earn Well-Liked Title in BGMI:
Play a squad match and ask your teammates to give 4 likes in every single match. ( In 250 squad matches, you will earn a well-liked title).
Your teammates might forget to give you likes, so remind them to hit the like button after the end of each match.
If you are playing with random players, then you must give like to them after each match, so in return, they will also like back to you.
If you want to earn a title early, then play games in TDM and Arcade. These games finish early as compared to classic matches. Classic matches take more than 25 minutes to finish, but the TDM and Arcade matches finish early, so you can play more games in this mode. The more you play, the more you can collect likes.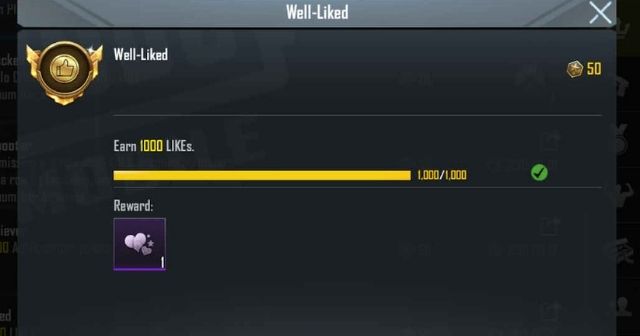 Steps to Unlock Well-Liked Title:
Open the BGMI game on your smartphone and go to Missions from the bottom of the home screen
From the right-hand side panel, click on Achievements
In this tab, click on the Crown icon
Scroll down and look for a Well-Liked title
It will show you how many likes you need to unlock the title.
How to View Number of Likes Count?
Open the BGMI game and go to the profile icon at the top of the corner
In the profile section, at the top corner, you will see the Like icon
Next to the icon, you will see numbers (it is the number of likes you have got).
So, this is how you can earn the Well-Liked Title in BGMI. We hope this article was helpful to you. Stay tuned for more details.