Battlegrounds Mobile India has become the most popular battle royale game in India. Since PUBG Mobile was launched, everyone got crazy, and we have heard many bad incidents as the game became addictive to the users. However, the Indian Government banned the game last year due to security reasons. With PUBG Mobile, many other Chinese apps were also banned.
Within just two months of release, the BGMI game has reached around a 50Million downloads. Currently, the game is available for Android devices only; we are still waiting for the iOS release.
However, the game should be played fairly, no matter whatever game you play. Recently, Krafton has banned around 3 lakh accounts for cheating. So, you must be careful if you don't want to lose your BGMI account. Before using any shortcut in the game, make sure you check whether it can ban your account or not.
ALSO READ: Krafton Permanently Bans Over 3 Lakh BGMI Accounts for Cheating
Krafton has become very strict when it comes to using hacks and earn in-game items in the wrong way. The developers have clearly explained what activities can ban the user's BGMI account.
So, today, we are going to check the list of activities that can ban your BGMI account.
Activities that can Ban BGMI Account
In Battlegrounds Mobile India, there are different types of bans:
Permanent Ban
90-Day Ban
30-Day Ban
3-Day Ban
If the players violate the rules of the game, then there are high chances of a permanent ban. So, make sure you stay away from cheating.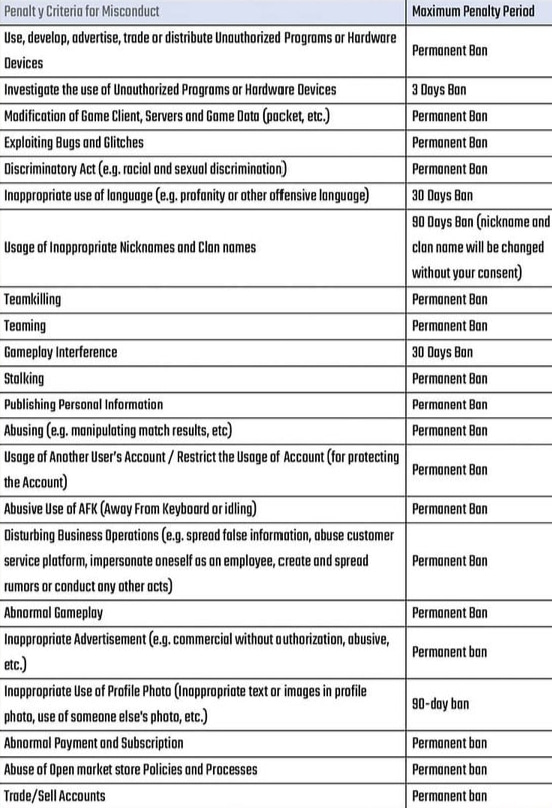 These are the Major Reasons for Accounts Ban in BGMI
Do not use unauthorized programs or hardware devices
Using any cheating tools can ban your account
Modifying the data of the game and clients
Teaming up for single-player matches.
Abusing another player verbally.
Selling Account
Inappropriate in-game names or clan names
Using the unofficial game client to play the game
Team game with cheating teammates
Team up with other team players
Using any type of hack to go ahead in the gameplay
Publishing personal information without their consent
Match Fixing
Using another player's account
Exploiting Bugs and Glitches
Discriminatory Act (racial and sexual discrimination)
Teamkilling
Teaming
Stalking
These are some of the reasons for the accounts ban in BGMI.
Ways to Avoid Account Ban in BGMI
If you genuinely want to play games, then you must avoid few things from getting banned.
Do not modify game files
Don't try to exploit bugs and glitches
Never engage in discriminatory acts
Don't get an illegal subscription
So, these are few details on BGMI Accounts Ban. You can check more details in the picture given, where all the rules by Krafton are shown.
---