Battlegrounds Mobile India has so many different items that players can get it for free or might have to purchase it. One of the items is Material, one of the most precious items in the game.  Material is used to upgrade the gun with skins and other things.
As the player upgrades the gun, it changes their reputation of them in the matches and lobby. However, there is no difference in upgraded and non-upgraded weapons, except a few of the features. The only difference is the look, it looks different from others.
With the help of Materials, you can decorate your weapons in many ways like Gunn Skin, Finish Effect, Finish Message, On-hit Effect, and more.
So, let us check out how to get Material in BGMI?
How to Get Material in BGMI?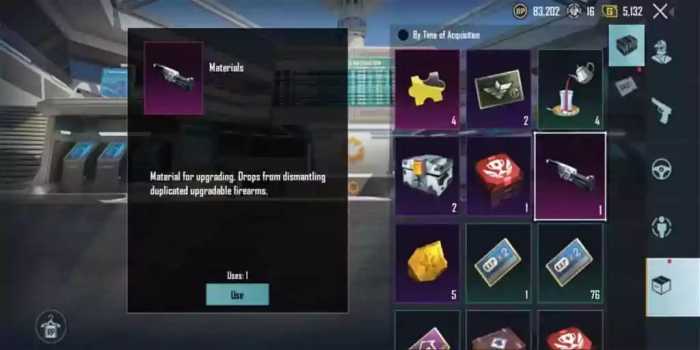 There are a few different ways by which you can get Material in BGMI. Check out the following ways:
1. Lucky Spin
Spinning the wheel is a good idea to get the material by spending UC. However, the chances are very low, and you are going to spend too much of UC to get sufficient material and paint.
The price for Lucky Spin are:
1 Spin: 10 UC (for the first chance of the day)
1 Spin: 60 UC after the first chance
10 Spin: 540 UC.
2. Unlock Upgradable Guns Multiple Times
This is one of the best things, unlocking the unlocked weapons will give you Materials. For example, if you already have M416 Glacier, and again you try to unlock that, then next time you get the same gun in the spin, it will be converted to the material.
Try to unlock AR instead of SMG and Sniper. As you will get extra material for unlocking ARs.
3. Open Crate
Opening a Crate is one of the easiest ways to get material. You will spend UC, but not so much. By opening the crate, there are high chances of getting Material.
1 Crate: 60 UC
10 Crate: 540 UC
If you don't want to spend UC to get material in BGMI, then do 1 spin every day, if you are lucky enough, you will get it. One of the best ways is to unlock any upgradable weapon multiple times.
We hope this article was helpful for you. Stay tuned for more updates.