Finally, there is good news for all PUBG Lovers in India. Even though there was news of the unban of PUBG Mobile in India, but all were waiting for the Government's approval as the Indian government banned PUBG Mobile, including other Chinese apps in September, due to privacy issues. So, now also the approval from the Indian Government is more important to unban the game in India.
PUBG Mobile Inches Closer To An India Release, Government Approved Registration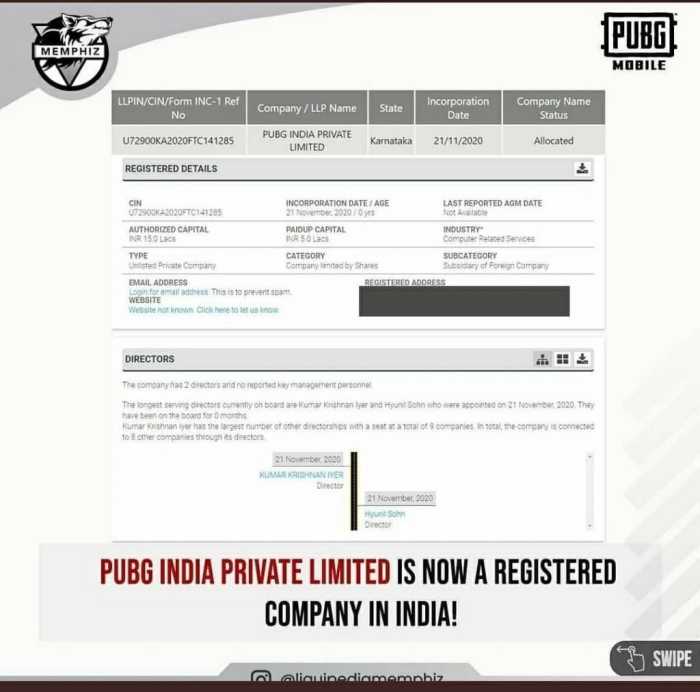 So, now, the Ministry of Corporate Affairs, Government of India has accepted the registration of PUBG India Pvt. Ltd. On 21st November 2020, the corporators have approved the registration. The subsidiary is set to Rs.15,00,000 with Rs. 5,00,000 as paid-up. There is a list of two directors of the company, Kumar Krishnan Iyer and Hyunil Sohn. With this, everything is now clear, and the game is just away from the official release.
The website of the Ministry of Corporate Affairs is confirmed as an individual based out of Bangalore. As the Indian Government has given the approval for the game, the developers will soon make an official announcement for the game. However, as of now, there are no official words on the launch date of the game.
Apart from this, the pre-registration of the PUBG is already started for Android and iOS users on the Tap game sharing community. Last week, the teaser of the PUBG Mobile India was released on the official Facebook page of PUBG. Three teasers were released, which had Dynamo, Jonathan, and Kronten.
After the teaser, the APK download link appeared for some of the users on the website. Many PUBG Players said that the "Download" option was visible on the PUBG India website in the new's section. However, the download option was not working. As per the news, the developers were just checking, and they did not put any download link.
PUBG Mobile India is all set to release soon with few changes in the game, and there will be a separate version for Indian users.