Genshin Impact is the first-ever open-world game by miHoYo and first, it comes into the picture last year. The game is loaded with many exciting features like an action-based battle system, charter switching, weapons handling, mind-boggling character designs, its FTP ( Free to Play) options, and many more.
By far the Genshin Impact is one of the coolest and most downloaded FTP open games in the world, just like Minecraft. Certainly, its coolest features and huge open-world fan base helped this game to grow on and on but the gacha features and primogens make this game even more exciting. Players need to earn some game currency so that they can swap it with their desired character.
Certainly, you are hoping for some free stuff from this game and there is no doubt about it, after all this is a gacha game right! In an open game, players need to unlock charter and weapons from time to time and acquire game currency so that they can compete with each other. Well, I'm happy to inform you that the publishers do launch a Genshin Impact codes list from time to time so that players can get all the free related stuff very easily.
Any player can redeem all the Genshin Impact codes right now! Here in this article we gonna tell you about all the Genshin Impact redeem codes 2021 in a very simple and sober manner. All Genshin Impact codes are working right now but if you read this article after 2 to 3 months they might not work. So please take care of it. Make sure to regularly keep checking this article for the latest updated codes for Geneshin Impact Game.
So what are you waiting for? Let's take a deep dive into it!
Genshin Impact Primogems Codes
Recently Genshin Impact launches three redeemable codes on its platform. Though they are not as useful as the real money you pumped into the game but they can give players a couple of freebies.
miHoYo the parent company of Genshin Impact has been very generous throughout the year with offering fans some primogems every once in a while.
Here is the Genshin Impact redeem code list. These new Genshin Impact codes are a good way to get a bunch of freebies like free Primogems, Mora, and many more. So without wasting any time quickly look upon the list and make sure to redeem them before they get expired. They have very tight expiry dates as well.
GS6ACJ775KNV (Reward: 10K Mora and 60 Primogems)- Players can redeem this code in unlimited fashion but it gets expired by the 9th of June
GENSHINGIFT (Reward: 50 Primogems and x3 Hero's Wit)- You can redeem this code only once in the game.
SBNBUK67M37Z (Reward: x5 Adventure's Experience and 30 Primogems)- Only newcomers can be able to use this code. The code is only for new players.
Checkout: How to Make Lead in Minecraft?
What are the requirements of Genshin Impact Redeem Codes 2021
Genshin Impact is very generous in terms of putting conditions to redeem its codes. Players only need to have adventures rank 10 to proclaim the codes. Otherwise, you are not eligible to redeem this Genshin Impact primogems code.
Read this: Pre-register for Battlegrounds Mobile India Now
How to redeem all Genshin Impact codes?
You can redeem all the Genshin Impact codes through the official website of Genshin Impact only. Here is the step to take you through your destination.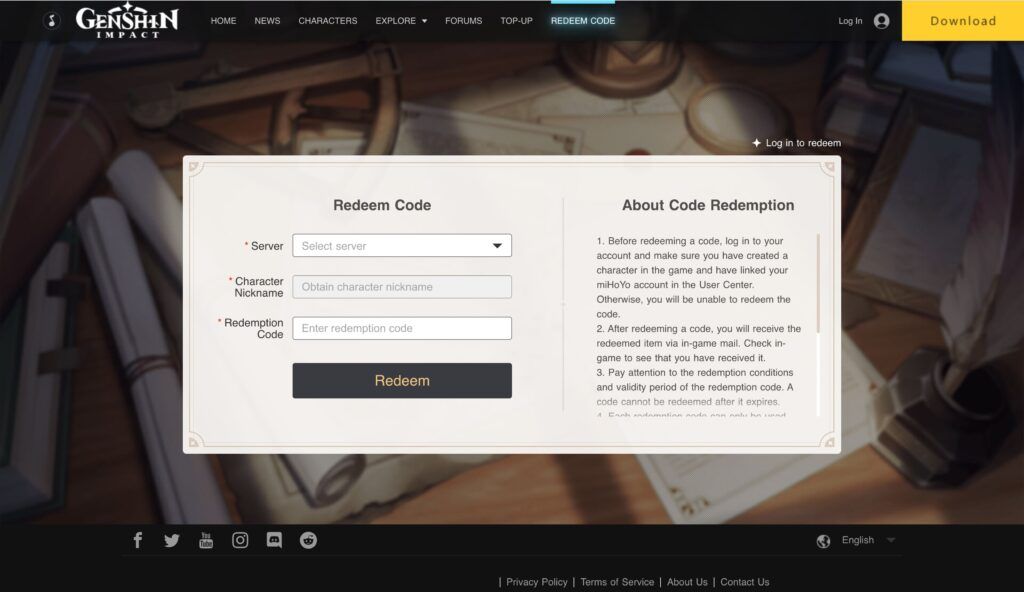 Step1:  Create a miHoyo Account first to perform any desired action for Genshin Impact.
Step 2: After successfully generating all your login credentials, straightaway logged in yourself.
Step 3: Dive straightaway to the redeem code page.
Step 4: After doing all this, select the server of your account (This is the same server used at the time when you created your account)
Step5: Then Select the character nickname where you want to receive your reward.
Step 6: After doing all the above steps successfully, type your new Genshin Impact redeem code and you are good to hit the redeem icon.
Step7: After being hit, the redeem code converted into the sent mail button option. Stright way you should hit this button.
All the eligible rewards are on their way to reach your mailbox. Just check your mailbox after a while, and I am sure you will definitely receive your rewards. Do you know, you can now use Minecraft Pixel Circle Generator to generator perfect circles in Minecraft.
How to redeem Genshin Impact codes on PS4 and PS5?
Players usually say that Redemption of Genshin Impact codes into the PlayStation is a bit tricky task than doing it into mobile or iOS. Yes indeed but don't worry that's why we are here. Just follow what we are telling you and see yourself as a pro of this setting.
Step 1: After creating a miHoYo account head into the account section.
Step 2: In the account section, head towards the setting menu.
Step 3: Here is the worst part of all these steps and I am sure no one of you wants to do this. Typing the Genshin Impact codes using your controller is not easy after all. But you have to do this to grab freebies and the benefits of that specific redeem code.
Step4: After getting through this worst part, you are good to go ahead with your free stuff.
You will receive all the rewards in your mailbox.
Read more: Best Stylish Names for Call of Duty
Conclusions
Here in this article, we offered you a ton of knowledge related to the Genshin Impact primogems code. It is advised you follow all the steps mentioned above to claim the Genshin Impact redeem code 2021. miHoYo often issued a very strict and tight deadline for all these codes even some code has only 24-hour life, So it is strictly advised you to do not procrastinate claiming all these Genshin Impact codes. Make sure you are eligible or not before claiming it. Choose any one code from the Genshin Impact code list and redeem it as soon as possible for you.
Maybe you are reading this article after one month and probably these Genshin Impact codes are not working properly because they are subject to expiry date and hence it is always recommended to you to bookmark this page, turn on notifications for new updates here, and keep checking this page for regular updates on the Genshin Impact redeem codes. We will make sure to update this article with every new code that comes so that our users of Geneshin Impact never misses any in-game reward opportunity.
In case if these mentioned codes are not working, straightaway do let us know in the comment section with the subject "Blah code is not working anymore" and we will provide you correct and new Genshin Impact codes.
Thank you for reading it out thoroughly and we are wholeheartedly open to your feedback if any.
Do let us know on which topic we should write further. If you have any kind of query related to this article or something else in gaming then the comment secgtion is open for you.
Be safe! Happy Gaming! Keep Rocking!