Battlegrounds Mobile India (BGMI) has different types of currencies like BP, Silver fragments, AG, and UC. The BP, Silver, and AG are offered as a reward but the UC can be purchased via real money.
The currency like silver fragment is not free as you need to complete many challenges, events, missions, and other things in the game. So, let us check out what are the uses of Silver fragments and how to earn it in BGMI.
How to Get Silver Fragments in BGMI?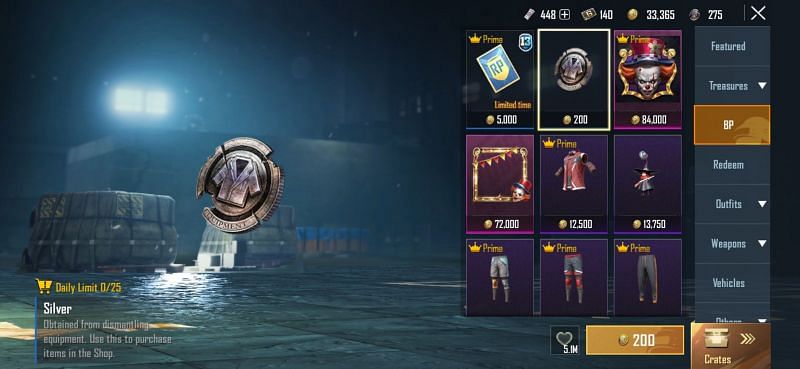 There are different ways to get silver fragments in BGMI. Most of the players mainly focus on UC and do not care about BP and Silver currency. But, they are doing a mistake, as with the help of silver fragments, one can purchase many items like Parachutes, Outfits, skins, helmet skins, Bag skins, and more.
1. Rich Highest Tier
The number of silver fragments is higher as you reach the highest tier. At the starting of the new season, the players will surely get silver fragments.
List of Silver Fragments Available in different Tiers:
Bronze: 200 Silver fragments

Silver: 400 Silver .fragments

Gold: 600 Silver fragments

Platinum: 800 Silver fragments

Diamond: 1000 Silver fragments

Crown: 1300 Silver fragments

Ace: 1600 Silver fragments

Conqueror: 2000 Silver fragments
2. Purchase Royal Pass
Once you upgrade the elite royale pass, you will get more silver fragments than a free royal pass. So, better you purchase Royale Pass in the game. Players need to complete the missions in the Royal Pass to get free silver fragments. Usually, the BGMI season lasts for eight weeks, so players get enough time to collect the rewards.
3. Events
Many events offer silver fragments as a reward, so make sure you take part in the events and complete the tasks. Earlier, to buy silver fragments players need to spend BP, for 5000 BP they get 25 silver fragments, but now there is no option.
4. Open Soldier Crates
By opening soldier crates you will definitely get silver fragments. However, crate opening starts with 700BP, so if you want to open the crate again then you will need double BP.
How to Open Crates in BGMI?
Open the game and click on the Crate menu from the home page.
From the list, click on Soldier crates
Open the crates as much as you can
Again to go Home page and click on Inventory
Click on the arrow and tap on Dismantle option
You will get silver fragments.
5. Play a Game with your Old Friend
Play a classic match with an old friend and you will get 1 point. Once you redeem the points, you will get around 15 silver fragments. One classic match gives you 2 points.