The word guild in Free Fire refers to a group of players in the game. Players will form a guild to join together, participate in different activities, and, most importantly, interact with one another while playing the game.  Its central idea is to make it simple for millions of people to locate other players who want to have fun playing the game. There are, however, regular challenges associated with the guild. Several guild parameters, such as the guild name, must be set during the creation process. After entering the guild, you will participate in them. In addition, the guild can participate in a tournament against other groups of players or other guilds. Free Fire allows players to form guilds and invite other fans to join them.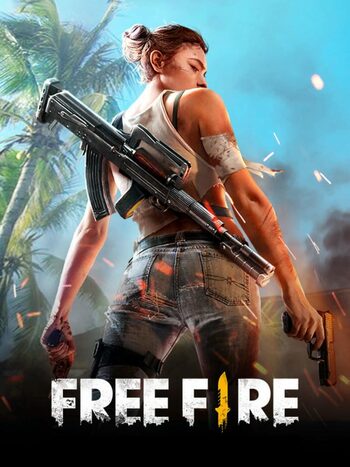 When forming a guild, it should be made sure to give it a unique name that will encourage others to find it and request to join. Also, since Free Fire offers a variety of options in the Guild name, one can choose any font or style they like and create a unique, cool and stylish name for their Free Fire guild, just like their Stylish Free Fire Name.
When a player creates a guild, they must give it a name. Many players want to stand out in the game, so they look for unique names with unusual symbols and fonts. It is very important to choose a stylish guild name in Free Fire that would stand different from others. This article enlists some of the best stylish guild names that can be used in Free Fire.
Also Read: How to Download Garena Free Fire on Windows PC or Laptop?
Top Best Stylish Guild Names in Free Fire
Ѵаѫpїяё$
𝕲𝖗𝖎𝖒𝕽𝖊𝖆𝖕𝖊𝖗𝖘
༺ℙ𝕤𝕪𝕔𝕙𝕠༻
 +🆃🅴🆁🆁🅾🆁+
☬Dєα∂ѕнσт☬
ᑕᕼᗩᗰᑭᎥᗝᑎᔕジ
乡𝐅𝐄𝐀𝐑乡
 ༒𝕭𝖑𝖔𝖔𝖉༒
–𝓔𝓪𝓰𝓵𝓮𝓼–
 ▄︻D̷e̷a̷t̷h̷══
NιɳʝΔʂ
×ᗅᑤᓿᗫ×
彡ØMEGΛ彡
ИЦMΞЯФЦИФ
ᗰᗴ丅ᗴᗝᖇ!
ĐØØM̶
★𝐈𝐧𝐯𝐢𝐬𝐢𝐛𝐥𝐞★
-卂匚乇-
IG̲ИIΓΞ
ƤΔƗŇ=
ỮŇŞŦØƤƤΔβŁ€
𝚃̷𝚘̷𝚛̷𝚖̷𝚎̷𝚗̷𝚝̷
𝕯𝖆𝖊𝖒𝖔𝖓
🇸🇱🇦🇺🇬🇭🇹🇪🇷-
Aʂʂαʂʂιɳʂ
Đ₳Ɽ₭ ₳₦₲ɆⱠ
𝕋𝕖𝕣𝕞𝕚𝕟𝕒𝕥𝕠𝕣𝕤★
尺ЦɪЛ
ƁƦƠƘЄƝ
༺ɖɛֆȶʀօʏ༻
T̾o̾x̾i̾c̾
V๏๏๔๏๏
𝔈𝔱𝔢𝔯𝔫𝔞𝔩
𝓗𝓸𝓻𝓲𝔃𝓸𝓷
I̟m̟m̟o̟r̟t̟a̟l̟s̟
ЄҲЄƇƲƬЄ
ĴƗŇЖ
<ꊰꄲꋪꉔꏂ>
SᎧulジ
丂ㄥ卂ㄚ乇尺.
*丅ᕼᑌǤᔕ*
█HУБЯID█
~🅒🅤🅡🅢🅔~
P̴a̴r̴a̴s̴i̴t̴e̴
Mสrveℓ𐍉นs Mนrde͢͢͢rers
ℜ𝔞𝔫𝔤𝔢𝔯𝔰
𝕋eค๓ 𝕋คᴄᴛful
Ṩilen† Foo†s†e℘s
ටקtiᴍคℓ ටղվ× ϚҟҽӀҽէօղʂ
Pℝeτeήdeℝs
𝔐𐍉ℝtiᶠie𝓭 Møℝ†å𝖑𝓼
Ṩ𝓮noℝΐTas
Dⱥ𝓻k 𝒲ⱥ𝓻𝓻เ𐍉ℝs
Ocean𝖘 Fou𝖗
Blac𝕜 𝒜ℝrows
V@p𝔢 Gø∂s
ZØᴍ多ie Cสni多us
Azนre 𝕰nigma
⧼Têa𝕞⧽ 𝕿𝖞𝖗𝖆𝖓𝖓𝖞
A𝖒𝖇𝖎𝖌𝖚𝖔𝖚𝖘 A𝖉𝖒𝖎𝖗𝖆𝖑s
Eb𐍉ղψ ExterᴍΐŇatørs
Pสssive Perקetr@tors
⑉Deliri𐍉𝔲s͢͢͢ ⌁𝔇𝔦𝔩𝔢𝔪𝔪𝔞⌁
Mαniสcs
☬ĐàŔĸツCÀMPERS☬
♥HUNTERS♥
Gυηѕℓιηgєяѕ
. ҉Fⱥtⱥl ⲘistaҜe
Sสrcαຮ†ΐc ShØØtᵉrs
𝔖nowflสҜes
Renegคᖙe Ṩl͢͢͢uggerຮ
Ɠɾմղցҽ Ⱥҽʂէհҽէìç
Knig͢͢͢ђ𝖙 Ri∂eℝs
𐍉aτhkeeperร
Diamo𝔫∂ Gamᵉrs
Sนper Ǥนyຮ
Te@m Uτopiค
CØre PhᎥlosop͢͢͢hers
PS¥CH¤༒KI[[€RS
🅷uήgrψ🅷ⱥήŇᎥ๒ⱥls
ТᎻᎬ༒ᏦᎥᏁᏳS
ℜ𝔢𝔳𝔬𝔩𝔲𝔱𝔦𝔬𝔫
Deϻeⁿ🆃ors▒
ʝօɨռӨ ƧΣПƬ ΣᄂƬΣ
8฿its🎭
๖ۣ•҉8Biτs
Ŧeⱥm やercץ
⚡ហąղѵì ƑƑ
💖кคภภค๔เﻮคร
 ๖ۣۜß2⋊ ๖ۣۜßand❥
⎝⎝✧ᴚoʎɐl Ɔɥɐllǝu͢͢͢ɓǝɹs✧⎠⎠
I𝕟ժiⱥ𝕟 Mafiaຮ
😡ᵂaggors
Ðïñ¢håk Gå₥êr§
Fɪɴᴀʟ乂Sᴛʀɪᴋᴇ
ツ꧁TSR B€R$ATU鿅꧂
ᵀᵉᵃᵐ ✘ ᴅʀᴀɢᴏɴ ☂️
Mōst RushêR.
『V🌹』•ᴮᴬᴰʙᴏʏツ
 ²⁰²¹R.FF
Also Check: Top Best Boss Stylish Names for Free Fire
How to Create a Guild in Free Fire?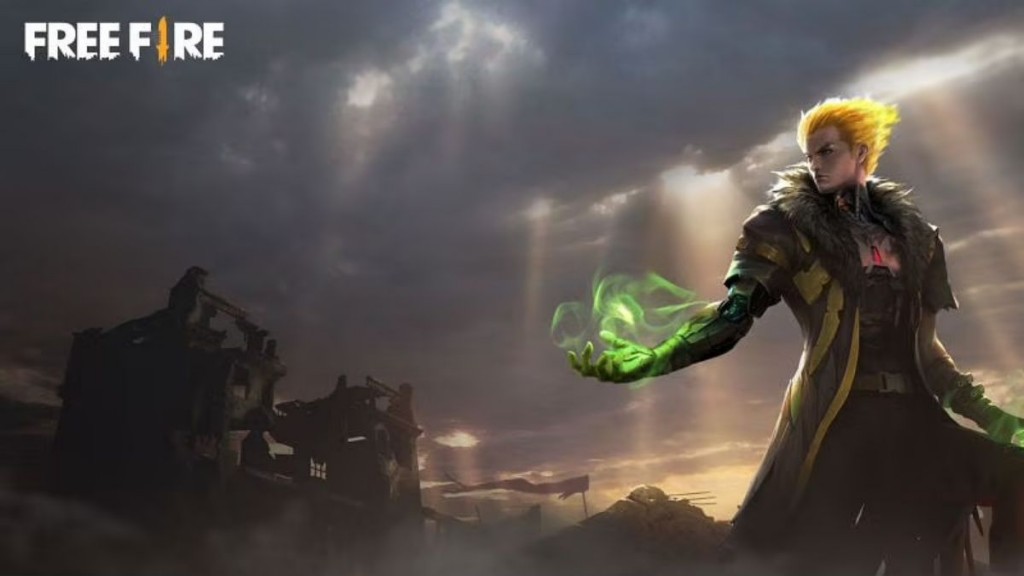 Users of Free Fire can also form their own Guilds and invite their friends to join them. Forming a Guild will cost Free Fire Diamonds in-game, for that you can checkout the list of Best Apps to Get Free Diamonds in Free Fire. To create your own Guild in Garena Free Fire follow these steps:
Step 1: Select the Guilds icon on the right side of the main screen in the Free Fire game.
Step 2: Select the 'Create Guild' option in the bottom right corner of the screen.
Step 3: For this Guild, you can choose any name you want.
Step 4: Make all of the required payments. To form a Guild in Free Fire, you'll need 1000 Diamonds or 5000 Gold.
Step 5: Then select the Invite choice from the Member List. It's at the very bottom of the screen.
Step 6: To invite friends, click on the newly formed Guild and select the 'Guild Invite' choice.
Checkout: Best Stylish Names for Call Of Duty Mobile
How to Create Stylish Guild Names in Free Fire?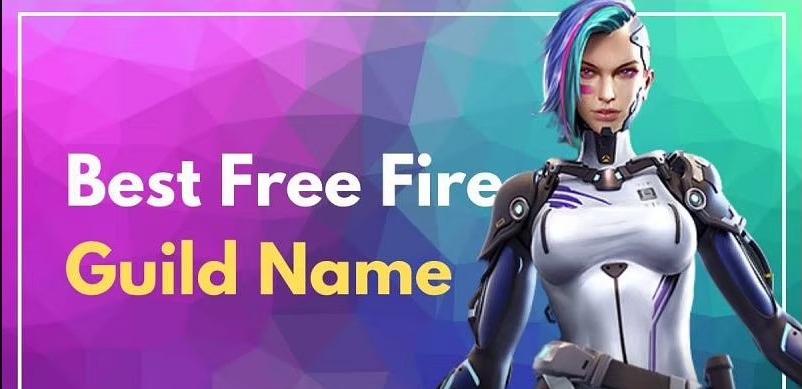 If you don't want to use any of the stylish name from the list above for your guild and if you want to create a custom name and make it stylish then you should check this.
Since standard smartphone keyboards lack fancy fonts and symbols, players will need to create them using websites such as fancytexttool.com,  nickfinder.com, lingojam.com, and fancytextguru.com.
To make a stylish guild name using such websites, follow the steps below:
Step 1: Open one of the above websites and type the desired name into the text area.
Step 2: After that, players will get a slew of results with stylish text and fonts.
Step 3: While modifying the guild's name or forming a guild copy the desired name obtained after following Step 2 and paste it into Free Fire.
Also Read: How to Get Free Fire Diamonds from GamesKharido and Codashop?
How to Change the Name of your Guild in Free Fire?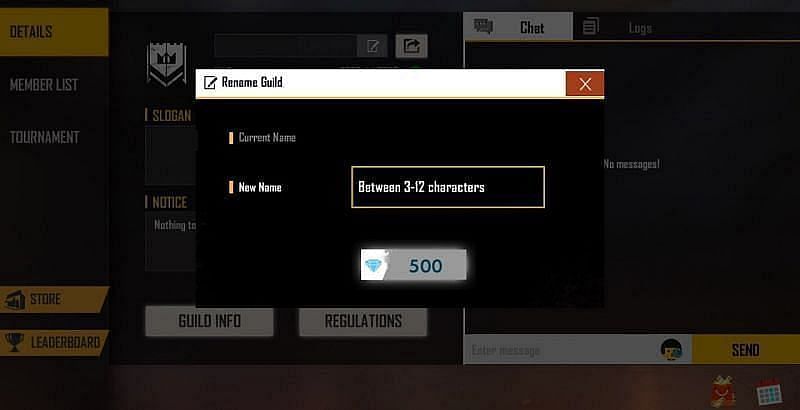 It's worth noting that only the guild's leader can change the guild's name. They will be charged 500 diamonds to change the name.  Follow these enlisted steps to change the name of your guild in Free Fire:
Step 1: After opening Free Fire locate and select the guild icon on the right side of the main screen.
Step 2: To change the guild's name, click the name-change icon next to the current name.
Step 3: You'll be prompted to type the new name in a dialogue box. Copy and paste the name into the text field below, then press the '500 diamonds' button.
500 diamonds will get deducted and your guild name will get renamed.
Watch the video below to know how to change your guild name to the Guild name of top Free Fire Players.