There are millions of players around the world who plays Free Fire. The game has great features like better gameplay as compared to other games. If you are a regular player of the game, then you might know that this game needs better controlling skills if you want to win the battle.
4 Finger Claw Setup in Free Fire
Most of the Free Fire players use their thumbs to control the game as it is the easiest way to play the game. You need to run, shoot, jump, aim, and use skills, but these things can't be done with just two fingers. So most of them lose the game so early and couldn't go till the end of the battle. You should also check the Free Fire Headshot Setting to auto aim the head of the enemy while combing.
So, what can you do if you want to do more actions at the same time?  Is there any way to do so? Yes, you can use 4 finger claw and do more actions at once. But for that, you need more practice. Play Free Fire with 4 fingers and have fun. This playstyle is called the Free Fire 4 Finger Claw playstyle.
Here are some details about 4 Finger Claw settings in Free Fire. Let us check out how to use this playstyle in Free Fire.
Free Fire 4 Finger Claw Settings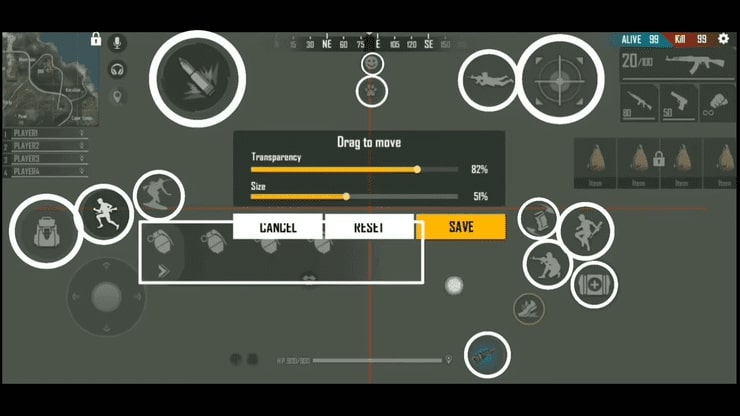 First of all, you need to reconfigure the default settings of the game and then you can use the Free Fire 4 Finger Claw. You have to move the positions of buttons and change their sizes.
Move the Fire button to the top left side of the screen, just beside the minimap.
Set the size to 100%, with which you can click on it easily.
Now, move the Aim button to the top right side of the screen, next to the weapon HUD
Set the size to 100%
Now, move the grenade menu beside the joystick and set its size 100%
You can easily get to it with your right thumb
And on the right side of your thumb, it is better to put buttons like jump, skill, reload buttons. And set the size of those buttons so it would be easy for you to press them.
Sensitivity Settings to be done to use 4 Finger Claw
And other settings which must be done are,
Quick Reload: Turn ON 
Quick Weapon Switch: Turn OFF
Vehicle Controls: Two-handed control
Auto parachute: ON
Damage Indicator: New
To use Free Fire 4 Finger Claw, keep practicing, at first you will not play well, but once you are in it, you will definitely be the best player. Lost Free Fire ID and Password? Check this to recover Free Fire ID and Password and get back access to your old account.