Have you lost your Free Fire account? Don't know how to recover your ID password? Don't worry, we are here to give you a solution.
It will be very frustrating if you lost your Free Fire account, especially if you have bought stuff with real money. As it is important to create an account to play free fire game on your device. You can create an account as a Guest account or can log in through Facebook or Gmail account. However, there might be any reason to lose your account. But don't worry, as here we are with the solution.
How to Recover Lost Free Fire ID And Password?
As there can be two types of accounts, one is Guest account and the other one is your Free Fire account connected with Facebook or Gmail. So, let's check out the method for both.
How to recover a lost guest account?
As per the official guidelines, the data of guest accounts are stored on the device internally and not on the cloud. So, if you have lost your phone, or your device internal data is deleted, then you cannot recover the guest account back. You should also check Free Fire Headshot Settings to auto aim the head of the enemies while fighting.
So, this is one main reason, to create a real Free Fire account. However, you can try to contact the Free Fire supports with your account name and ID. But it might not help you.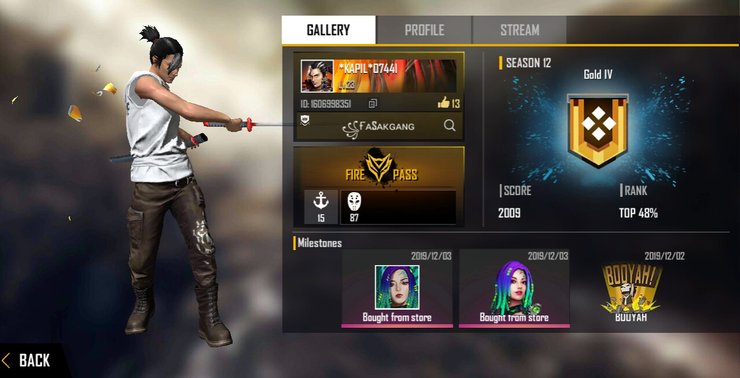 How to reset Free Fire ID and password?
In Free Fire, there is no way of creating an account without submitting any details. So, you don't need to recover your ID.
So, if you have lost your Free Fire account, then you have to reset the password of the accounts which is linked with your Facebook or Gmail. You must be knowing while creating an account you need to login through Facebook or Gmail.
Check this out to know how to create and add stylish names in your FreeFire account.
Steps to reset the password on Facebook:
First of all, open Facebook
Enter the email which you have connected with Free Fire
There you will see an option of Forgotten Password under Login
Click on Forgotten Password
You will see multiple options to reset the password
Select any one and complete the verification process.
Enter the new password and login to your account.
Steps to reset the password on Google:
Visit the official website of Free Fire and enter the Email ID
After that, click on the Forgot Password option
Select any way to reset the password
Change the password and login to your account.
So, this is how you can recover your lost Free Fire Account. We hope this article was helpful to you.
Get FreeFire Characters and Bundles for Free Using FreeFire Redeem Codes. All latest working FreeFire Redeem Codes for Indian Region are added.