Free Fire is the most popular battle royale game on both Android and iOS devices. It allows up to 50 players to land on an island in search of guns and other loots. The players kill the enemies and loot them and whoever stands till last wins the game. In the past few months, the game has become successful.
Once you install the game, the player has to set a nickname in the game. And the name can be changed anytime by the player. One can keep their name as per their choices. So, if you want to put a stylish name for your character but are confused then here are some of the stylish names. We have also shown you how to get Stylish names for the game.
How to Get Stylish Names in Garena Free Fire?
If you are not getting any idea on what names you must keep then there are few websites, which help you out by providing stylish names. You can visit websites like Nickfinder, Lingojam, Fancy Text Tool, and more.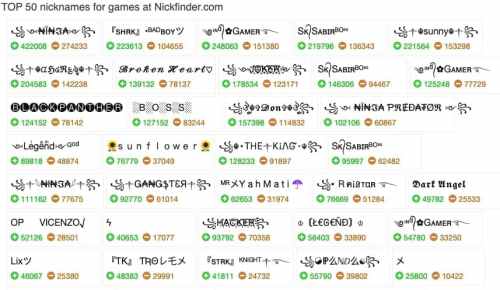 However, on mobile phones, there is a regular keyboard so we do not have fancy fonts and symbols. So, it is better you use such websites to generate stylish names.
Create Stylish names in Free Fire by following the given steps:
First of all, open any website like Nickfinder, Lingojam, Fancy Text Tool
Enter the desired name and see the results in different fonts
Now, select any style from the results and paste it into the IGN in Free Fire.
Here are some of the ideas of Names that you can keep in Free Fire.
Nicknames for Free Fire
꧁༺𝔅𝔩𝔞𝔠𝔨𝔅𝔦𝔯𝔡༻꧂
꧁༒☬ᶜᴿᴬᶻᵞkíllє®™r☬༒꧂
꧁➪♧︎XᴀʀᴅɪX☜︎♧︎꧂
꧁࿇ÐɑʀҟƑîʀɛ࿇꧂
꧁༺ ₦Ї₦ℑ₳ ƤℜɆĐ₳₮Øℜ ༻꧂
๖ۣۜZΞUS༻⚡️🔱対象⚔
𝕯𝖆𝖗𝖐 𝕬𝖓𝖌𝖊𝖑
꧁꧅๖ۣۣۜOᛗ𐌄ĞᎯ꧅꧂
 ☠︎☬༒~VEŇØM~☠︎☬༒
☬₣ℜøźєη•₣ℓα₥єֆ☬
 ━╤デ╦︻☬DE$TRØyER☆☬✰DEViL☬▄︻̷̿┻̿
Vampire
KNOCK
Golden Hawk
VIKING
꧁☯₷ⱣΛɌ₮Λ₡Ü₷꧂
꧁࿇ÐɑʀҟƑîʀɛ࿇꧂
🆂🆄🆁🆅🅸🆅🅾🆁
\ ★ᴾᴿᴼ❥Ӄᴎ͟͞ɪ͟͞ԍ͟͞ʜ͟͞ᴛ★
So, these are some of the stylish names for Garena Free Fire. If you want more than you can visit the above-given websites and find the best names for your character.