Garena Free Fire battle royale game is so popular among millions of players. After PUBG Ban in India, most of the players are playing Free Fire and Call of Duty Mobile. The Free Fire game is popular globally. Free Fire has a pack of weapons, outfits, vehicle skins, characters, customizations, dress bundles and much more. The players can redeem all items once they complete the Elite Pass missions or if they want then they can purchase it from the in-game shop. You will also need some diamonds in the game to collect all the items. Or you can get diamonds by navigation to the diamond section. So, now, let us check out how to get these diamonds in Free Fire.
How to Get Diamonds in Free Fire?
There are few different ways available in Free Fire to get Diamonds. Let us check out the methods:
1. Top-Up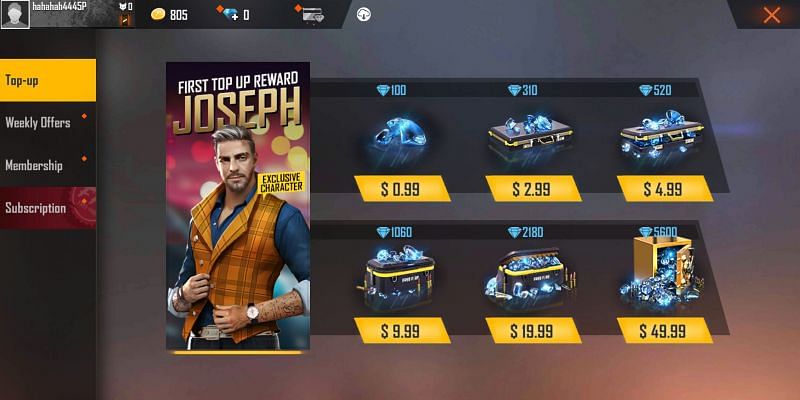 One of the easiest ways to get diamonds is from Top-up section. Under the "Diamonds" option there is a top-up section from which you can purchase diamonds. For $0.99 you can get a minimum of 100 diamonds and for $49.99 you can get maximum of 5600 diamonds. Moreover, after you buy the first diamond top-up, you will get a reward.
2. Membership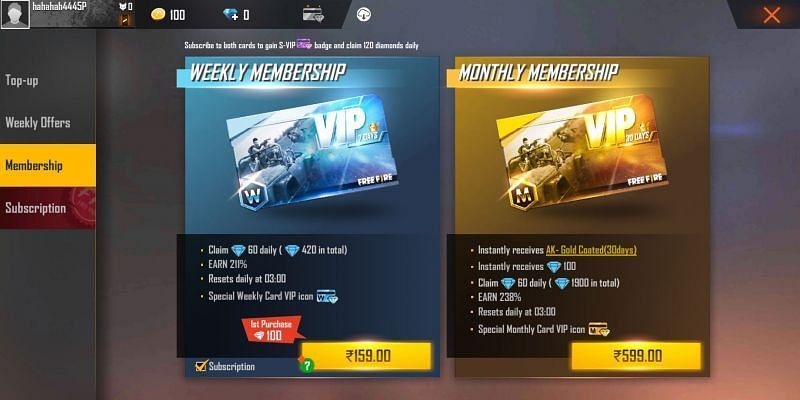 All the players who need diamonds regularly can choose weekly or monthly membership. With this, you can save money, instead of purchasing diamonds from top-up. The price of weekly membership is Rs. 159 and the monthly membership price is Rs. 599. With a membership, you will get diamonds at a cheap rate. These memberships also offer few more benefits like S-VIP card.
[irp posts="348″ name="How to Join the Free Fire Custom Rooms?"]
In a weekly membership, the players will receive 60 diamonds daily. And in a monthly membership, a player gets 2000 diamonds. After the first purchase, you will get 100 extra diamonds.
3. Weekly Offers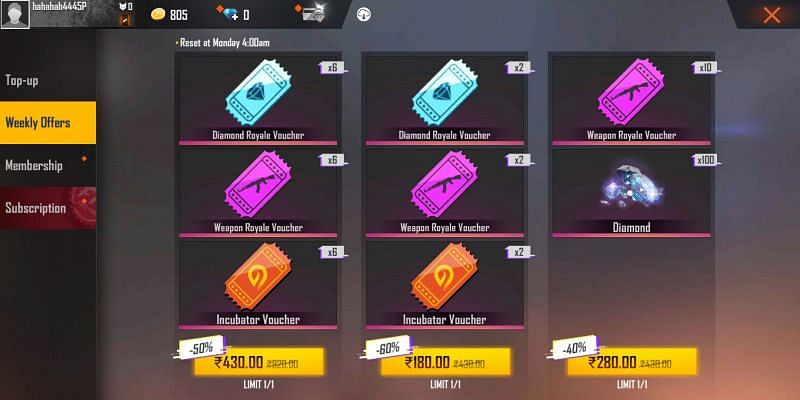 In Free Fire every week the game has the offer. This weekly offer has different combinations of items at cheap prices. All the players who want to buy other in-game items with diamonds like royale vouchers should avail these weekly offers. Use this weekly offer and get diamonds easily.
4. Official events from Garena
Most frequently, Garena arranges different types of events for giving away free Diamonds. And in these events, the number of diamonds is too large. However, the official events come on important days only.
5. Report bugs when the Free Fire Advance Server is open
A player needs to participate in the Free Fire Advance Server to report the bugs or any issue which come while you play the game. This is an easy method to earn free diamonds in the game. By using this method you will get much diamonds then you get in the official game events.
6. Using Diamonds Top-up Websites
You can also top-up Free Fire Diamonds using Diamond top-up websites like GamesKharido.in and Codashop.com. They are best, popular and reliable websites and they also offers bonus diamonds on every top-up. Checkout how to top-up Free Fire Diamonds using GamesKharido or Codashop websites?
On the first top-up at GamesKharido, you can grab 100% Bonus diamonds for free. If you top-up 1000 diamonds, you get additional 1000 diamonds as bonus for free.
7. Using Apps & Websites to Grab Free Diamonds
If you don't want to invest or put in your real hard earned cash and want to get diamonds in Free Fire for free then you have to make use of Get-To-Paid websites such as Google Opinion Rewards, Poll Pay, PlayerZon, Easy Rewards, etc. You can check out our list of Best Apps to Get Free Diamonds in Free Fire.
So these were some of the methods to get diamonds in Garena Free Fire. If you liked this article, then share it with your friends. If you have got any suggestions or feedback then share it in the comments below. Thank you!