Battlegrounds Mobile India Series 2021(BGIS) is going on. It's already come to halfway, and the online qualifiers round is finished. The four-day Round 3 had a total of 256 teams from both invited and qualified rounds. From these teams, only 64 teams have been qualified to the Quarterfinals round.
Battlegrounds Mobile India 2021 Quarter Finals Qualified Teams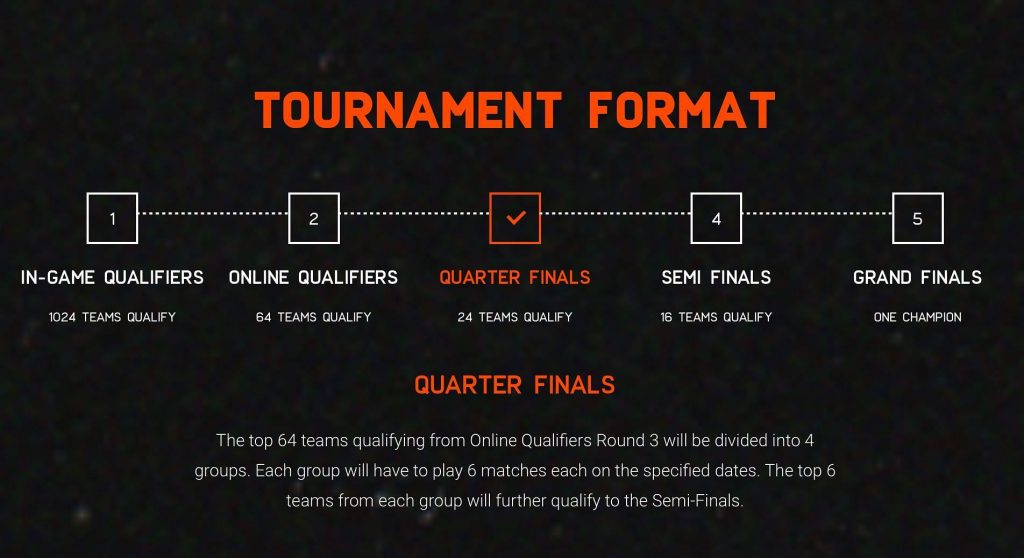 In the first round of in-game qualifiers, 1024 teams were qualified for online qualifiers. The quarter-finals will have 64 teams and will start from  January 2nd to January 5th.
The 64 teams will be divided into four groups of 16 and will battle against each other. From this, the top 6 teams from each group will go to the semi-finals.
Here is the list of 64 Teams of Quarter Finals.
Qualified Teams of BGIS Quarter Finals
Invincible
Hyderabad Hydras
Chicken Rushers
Supari Gang
Team Ironsight
4Heros
OR eSports
Nigma Galaxy
Team XO
Team Mayavi
Team Outset
FPS Gaming
Global Esports
OLD Hood
R Esports
Orangutan
Team Forever
MF Esports
Team X Lions
Team GT
Fault Esp
Team Outlier
Reckoning Esport
Team NFC
RIP Mizo Gaming
Team Orgless5
Team BE
Team Soul
celsius
Only Glitch
Obey
Team K9 officials
TSM
7Sea Esports
xzist Esports
Version 1
Revenant
Sin Officials
2op officials
Deadeyes
Team Xspark
Team EZ4
X Terminator
Team Redxross
UDT Esports
247 Gaming
Onesided Glory
ForceOne
Skylightz Gaming
Mastizone Gamin
KBP Jodd
Destructax
uDog India
TKM Esports
Rag3 official
Long Reign
Enigma Gaming
GodLike
Tactical Esports
2Op Esports
Scythe Kronos
Team Insane
Rivalry
Lagging Expertsya
CHECKOUT BGIS ROUND 3 Results:
Semi-Finals:
The semi-finals are from 7 January to 10 January and they will be played between the 24 qualified teams.
Grand Finals:
In the finale, there will be 16 qualified teams fighting against each other to win the title. The grand finale is from 13 January to 16 January.
The BGIS 2021 tournament has a massive prize pool of INR 1 crore.