Call of Duty Mobile season 2 is still going on and we already got leaks for Season 3 with some new maps, and release date. With each update of the game, the developers bring something new and exciting content.  In season 2 of Call of Duty, we saw a new BR Class spotter, a cargo truck, and more new things. While the players are still enjoying the second season, Call of Duty Mobile season 3 is already leaked online.
Let us check out what are the details leaked and what new things are coming to Season 3 of COD Mobile.
Call of Duty Mobile Season 3 Details Leaked 
Do remember all these details are just according to the leaks, once it is officially announced, we will share all the official details as well.
According to the leaked details, the Call of Duty Mobile Season 3 will release around April end, as Season 2 is going to end in the last week of April. So, we can assume that Season 3 will be coming right after season 2 ends.
New Multiplayer maps
Dome
A Twitter user @codmINTEL has posted a tweet that shows a Dome Map. We can guess, that COD Mobile season 3 will have a "Dome" map. It is a multiplayer map from COD Modern Warfare 3. In the COD Lore, it is a rejected NATO military outpost of the cold war era. And the Dome map is designed for close-quarter combats.
Dome Map from MW3 was showcased in a new Timi J3 workplace tour. #CODMOBILE pic.twitter.com/PsBydcN8bf

— Call of Duty Mobile News (@codmINTEL) March 19, 2021
Seaside Map
Seaside Map is already available in the Chinese version of the COD Mobile game. The developers first introduced the Seaside map in Black Ops 4. And if the rumors are true then we can see this Seaside multiplayer map in COD Mobile season 3 as well.
Monastery
In the upcoming season, this is another multiplayer map that might be added. However, the Monastery map is going to be added soon in the Chinese version of the game, so we can guess that the same map might be available in the Global version as well.
Weapon System Changes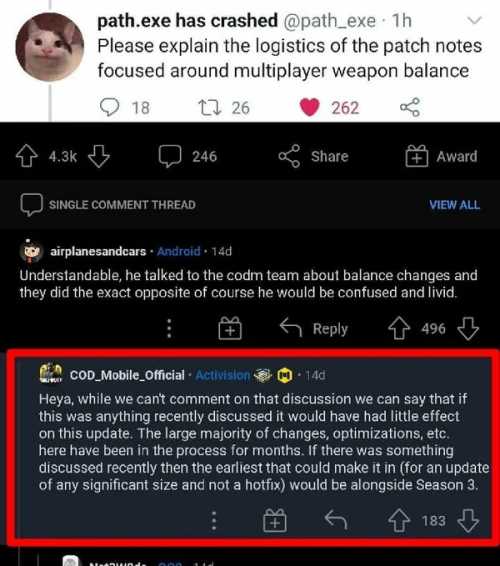 These details are from the official subreddit of COD Mobile, where there is a comment on the post mentioning the weapon system's upcoming changes. The post is about weapon balance concerning the multiplayer mode and how the guns are situated higher than others. So, it is expected that some weapon changes and customization might come in COD Mobile season 3.
So, these are a few of the leaks of Call of Duty Season 3. Once all the details are officially out, we will share them with you. Till then stay tuned to us for more and the latest updates.