Battlegrounds Mobile India has a lot of great features and events in the game. In the ongoing matches, you might have noticed; some players automatically pick up all the scope they find. And some of the players switch out scopes in a regular way. Do you know how the players automatically switch the scopes without opening the bag? If yes, then no problem, but if you don't know, then let us tell you that it is a useful feature called Quick Scope Switch present in the game, and every gamer should enable this feature.
So, let us check out the feature and how to enable it in Battlegrounds Mobile India.
What is Quick Scope Switch?
Quick Scope Switch allows the player to change the scope with just one click. When the player comes across the enemy who is far away, at this time, you don't need to go into the bad and change the scope; instead, players can change the scope with the help of Quick Scope Switch.
However, this feature is Off by default, and you need to turn it On manually. Here's how you can enable the Quick Scope Switch feature in BGMI.
ALSO READ: BGMI: How to Deactivate Spectator Mode in Battlegrounds Mobile India
How to Enable Quick Scope Switch in BGMI?
Follow the steps to enable the quick scope switch feature in the Battlegrounds Mobile India.
Open the BGMI game on your smartphone.
From the bottom right corner of the home screen, click on the arrow
From the Menu, go to the Settings section
Look for Scope settings on the right side and click on it
You will see an option of Quick Scope Switch, Toggle On
Now, you will see the Quick Scope Switch icon in the ongoing match below the Map.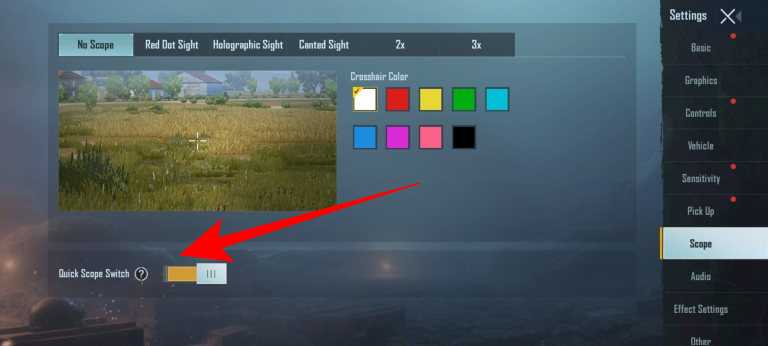 Once you enable this feature from the settings, you can equip the scope from your bag or another weapon. You can also unequip the scope by clicking on the equipped scope.
When you turn on the quick scope feature, it helps you to improve the combat in the short and long-rage fights by changing the scope. Also, you can save your time while going through the bag.
So, this is how you can enable the quick scope switch feature in BGMI. This feature is really helpful for all the players. We hope this guide was helpful to you. Stay tuned for more updates.