Battlegrounds Mobile India is the rebranded version of the PUBG Mobile battle royale game. Just like PUBG Mobile, even BGMI has Redeem codes that give you rewards. Once you use these codes, you can get skin, weapons, cosmetics, Lucky Spins, emotes, and so much more. The Redeem codes for BGMI are available on the official web portal.
The developer Krafton has created this as an in-app purchase. So all the gamers can get rewards every day with the help of these redeem codes and get their favorite Gun skins, UC, and more. Let us check out all the details of redeem codes, and how to use them, and more details.
Battlegrounds Mobile India Redeem Codes for Today
The BGMI redeem codes can be used to redeem the rewards that are offered by the game. All the Android users can now download the game from Play Store, and iOS users need to wait for more as the official version is not rolled out.
All those who pre-registered on Play Store have already got the rewards like Gun, Dress, Car skin, etc., but if you haven't, then you will not get skin, UC, and other items for free. Many people who don't want to spend real money to buy such in-game stuff, so for them, these redeem codes are helpful.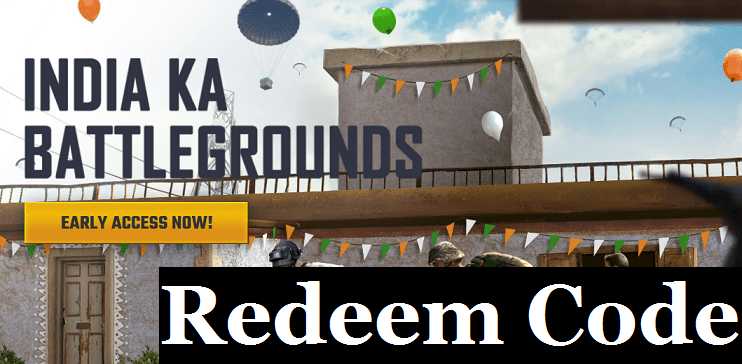 If you are looking for Battlegrounds Mobile India Rewards, then check out the list of redeem codes or can directly visit the official website battlegroundsmobileindia.com.
NOTE: Still Krafton has not released any redeem codes for the Indian version of PUBG Mobile, Battlegrounds Mobile India. Once they release we will update this article and provide you redeem codes every day.
What are BGMI Redeem Codes?
All those players who can't buy the in-game items that are expensive look for the best ways to get things for free. One of the best ways to get in-game items for free is to use redeem codes. BGMI redeem codes give a chance to players to get special items for free.
ALSO READ: How to Download & Install BGMI Beta on Android 11?
How to Use BGMI Redeem Codes?
Follow the given below steps to use BGMI redeem codes in the game.
If you haven't downloaded the game, download it now
Follow the instructions and login to BGMI
Now, visit the official BGMI website and go to the Redemption center
At this center page, it will ask you to enter details like BGMI ID, redeem code, and verification code
Enter the correct details and then click on Redeem button
A pop-up will show the details to recheck and confirm
Then click on OK, and the rewards will be added automatically to your account.
So, this is how you can use BGMI redeem codes.
Keep visiting our site as we daily update the redeem codes of BGMI.
Do remember that the codes have limited seats, so the ones who use them will be able to get the rewards.
F.A.Qs (Frequently Asked Questions)
What are the rewards for Early Access BGMI?
If you have pre-registered the game, then the rewards are 1 Supply Crate Coupon, 2 Exp Card, and 2 BP Card.
What is the Release Date of  BGMI Final Version?
The officials have not announced any release date, but it will be coming soon.
BGMI Game Requirements for Android Phone?
To play the BGMI game on an Android phone, you should have Android OS 5.1.1 or above and should have a minimum of 2GB RAM or above.