Garena Free Fire has finally released the OB28 update. This new update brings new rewards, in-game skins, and emotes for all the players. So, update the game to the latest version and get all the new features that have arrived. The developers have brought a new skin "McLaren P1 Helios car skin" and a new emote named "Win and Chill" in this update.
The game has provided some login rewards of diamond vouchers and weapon crate vouchers. However, to get all these new items, you need to spend diamonds, but not everyone is ready to use them as you need to buy diamonds with real money.
All the royal battle games have emotes with which the users can communicate. Sometimes, these emote are also used to troll the opponents in the game. However, now emotes have become important, so the developers are also adding new emotes to the games via collaborations or events.
As a new emote has arrived in Free Fire OB28 update, let us check out how to get the "Win and Chill" Emote.
How to Get 'Win and Chill' Emote in Free Fire OB28 Update?
At present, the top-up event is going on in Free Fire from where you can get the emote. However, users will need the required amount of diamonds to purchase a new skin or new emote. The top-up event has already started from June 8 and will continue till June 15, 11:59 PM (IST).
To get the "Win and Chill" emote, you need to have 500 diamonds and can get the emote for free. So, follow the steps to get the emote.
Step 1: First of all the players need to have the required amount of diamonds. You need to buy them with real money and the prices are as follows:
INR 80 – 100 diamonds
INR 250 – 310 diamonds
INR 400 – 520 diamonds
INR 800 – 1060 diamonds
INR 1600 – 2180 diamonds
INR 4000 – 5600 diamonds
Step 2: Once you have enough diamonds, you can go to the events section. Go to the lobby screen and click on the Calendar icon on the right side, and then go to events.
Step 3: There you will see the McLaren Top-up tab, click on the claim button beside the emote, or whatever you want to get from the rewards.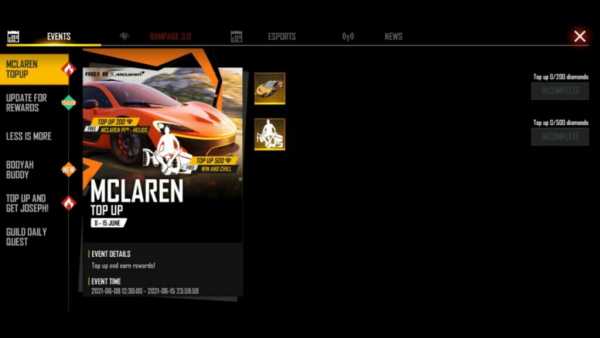 Garena Free Fire regularly adds top-up events that offer good rewards on purchasing the diamonds. All the rewards that are obtained from such top-up events are free.
As of now, Win and Chill emote is available in McLaren top-up with 500 diamonds and McLaren P1 – Helios for 200 diamonds.
This is how you can get the "Win and Chill" emote in Free Fire OB28 update.
Not everyone is willing to buy diamonds with real money, so here we are to help you on how to get free diamonds in Free Fire. If you have diamonds then it will be so easy for you to get in-game items.
How to Get Diamonds for Free in Free Fire?
There are few different ways to get free diamonds.  There are some apps and websites that help you to earn free diamonds, let's check it out.
1. Google Opinion Rewards
It is one of the most trusted apps which has more than 50 million downloads on the Play Store.  On this app, you need to answer quick surveys and earn Google Play credits. These credits can be used to buy diamonds.
Download Google Opinion Rewards
2. PlayerZon
PlayerZon is an eSports Platform using which you can participate in Tournaments and Matches of Games like Garena Free Fire, PUBG Mobile, COD Mobile, etc. and earn real cash rewards and in-app currencies like Diamonds in Free Fire and UC in PUBG Mobile.
ALSO READ: Free Fire Diamonds: Best Apps to Get Free Diamonds in Free Fire
3.

Use GamesKharido.in
Most of the players are aware of it as it provides a 100% bonus 😯 on the first purchase, which means if you top-up 1000 diamonds then you get 1000 diamonds extra for free. For more details check here.
4.

Codashop.com
It is a diamond top-up website, that offers in-game items for Free Fire as well as other games.
So, these are some of the best ways to get diamonds for free in Free Fire. Apart from this, there are many other sites and apps that are illegal, so be careful while you select any site or app to get free diamonds. We hope this article was helpful to you.