PUBG New State is the latest battle royale game that is launched on 11 November on both Android and iOS. Krafton has released the title in 200 countries, including India. The game is similar to PUBG Mobile, with some new and exciting features.
Just like every game has an in-game currency, PUBG New State also has a currency called NC. This can be used to purchase in-game items like cosmetics, weapon skins, and more. However, these currencies are not available for free; you need to first buy it with real money.
As the game is recently launched, not all of them might know the pricing and other details of the NC currency. So, here we are with a full guide on purchasing NC currency in PUBG: New State.
What is NC Currency in PUBG New State?
It is a primary currency of PUBG New State which is used to buy in-game items like weapon skins, emotes, premium pass, and more.
The official prices to buy NC in PUBG New State are:
NC 300 – ₹89
NC 1500 + 80 – ₹449
NC 3600 + 250 – ₹1,099
NC 15000 + 1800 – ₹4,499
NC 9300 + 930 – ₹2,749
NC 30000 + 5000 – ₹8,900
NC Bonus Package – ₹8,900
Crate Ticket Package – ₹ 8,900
Chicken Medal Bonus Package – ₹899
How to Top-up NC in PUBG New State?
It is very easy to buy NC currency in PUBG New State, follow the steps, and buy the currency in the game.
Launch the PUBG New State game on your smartphone
On the main screen you will see the NC option
Click on the Purchase tab
Select the amount and proceed
Pay the amount with the payment method you prefer.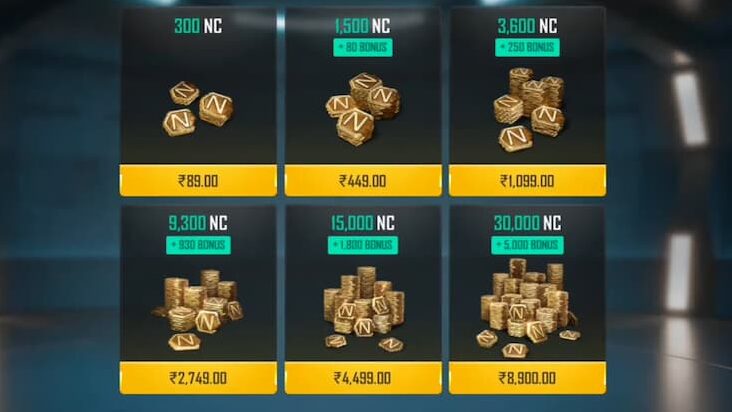 That's it! The NC currency will be credited to your account successfully. You can later use it to buy cosmetics and other in-game items.
The new game PUBG New State has received a positive response from professional gamers. Already the game has crossed 20 million downloads within 72 hours of release.