Fnatic India is having a rough time settling it's PUBG Mobile line-up. From the beginning, Fnatic has been trying out a lot of permutation and combinations to make the perfect team. InYoDream, Paritosh, Maxkash, Franky787, Owais, Ronak, ScoutOP & Ash have been part of the tryout in the past. But recently with the addition of Maxkash, it's even more transparent that someone's going to leave Fnatic. In fact, Scout has been playing The PMIS tournament for Orange Rock eSports right now. But speculations conclude that Scout is still going to be a part of Fnatic after PMIS. But no such assumption can be made about the future of Fnatic Ronak as he has given a lot of hints about some huge announcements coming after PMIS or PMWL. Ronak had also marked himself as a free agent for PMIS and Team NovaGodlike actually showed interest in him for their PMIS roster to fill Gill's place. But because of an early exit from the qualifiers with the new roster, NovaGodlike is out of the tournament and Ronak isn't in anyone's consideration for their roster. And as of now, Ronak has removed all marks of Fnatic from his social media. His Instagram bio doesn't display any mention of Fnatic as before anymore. A few days ago we could see him mentioning his place at Fnatic as an eSports athlete in his Bio. After recruiting Maxkash, Fnatic has dropped him from the PMIS lineup. Although he has announced a short break from the competitive scene at this moment, so do you think that this is a hint regarding the upcoming huge announcement?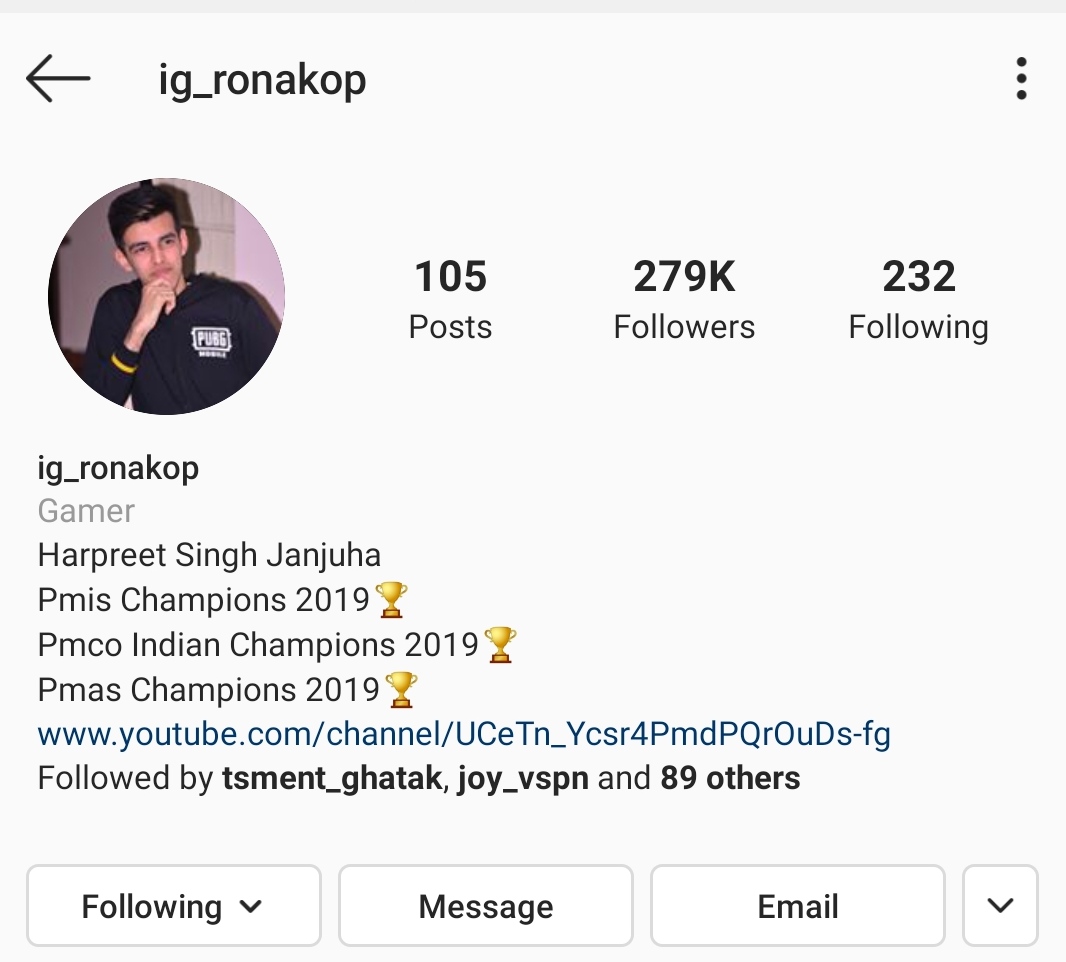 ALSO READ: Fnatic Owais Joins Megastars eSports for PMWL 2020
Ronak has been one of the most brilliant players in the history of PUBG MOBILE India. From being part of SOUL and winning 2 championships ( PMCO & PMIS) to Fnatic and winning PMAS with the team, he has proven multiple times about his impact on the team's success. In fact, after a lot of trash talking in the community about his gunfight, It didn't stop him from improving his skills. He did listen to the critics, came back stronger, and made his place in the PMPL lineup this month. But after 2 consecutive team failures, teams are making tough choices. As a part of a healthy ecosystem, we expect him to come back stronger this time and inspire the community more.