There are many weapons in PUBG Mobile, which makes it hard for everyone to choose any weapon. But most of them prefer to use the M416 gun. Once you choose the weapon, another confusion is to choose the attachments. However, most of them choose the M416 gun as a weapon because of its flexibility. Therefore, many of them gets confuse to choose the best attachments. So, today, here we will show you the best attachments for M416 in PUBG Mobile.
Best Attachments for M416
The M416 gun is chosen by most of the players as its biggest strength is its versatility. If your gun has the right attachment, then it can change all kinds of battles and make it perfect for any situation. However, most of the players choose the M416 gun because it has low recoil, decent damage, and fire rate.
M416 supports all the attachments, so it is highly customizable and one of the best weapons in PUBG Mobile game.
There are five attachment slots in M416:
Muzzle (AR)
Mag (AR)
Grip
Scope
Tactical stock
NOTE: In the latest update of PUBG mobile you can have a new option to use Canted Sight. So that is one new optional attachment which you can use on M416.
Let us understand all the attachments first:
1. Muzzle
Muzzle: There are a total of three options available for the muzzle. You can use any of them, depending on your needs.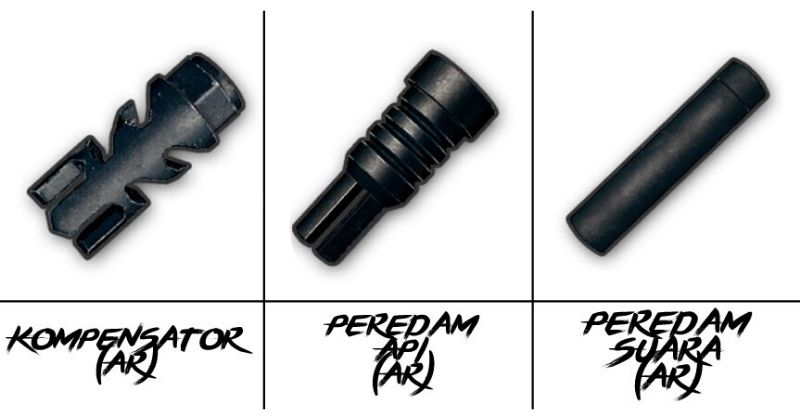 Compensator:  It helps you to make your gun stable while shooting. A compensator is mainly used to reduce recoil.
Suppressor: As the name suggests, Suppressor will make your gun suppressed. So while you are shooting, many players will not hear the noise.
Flash Hider: If you are prone, then the best muzzle is "flash hider". As it will hide the flash of your gun while shooting. Also, it helps to control the recoil of your gun.
2. Magazine
Magazine: It is the most useful and common attachments of almost all guns. You can use mags to maximize the capacity of bullets or to reload your gun faster.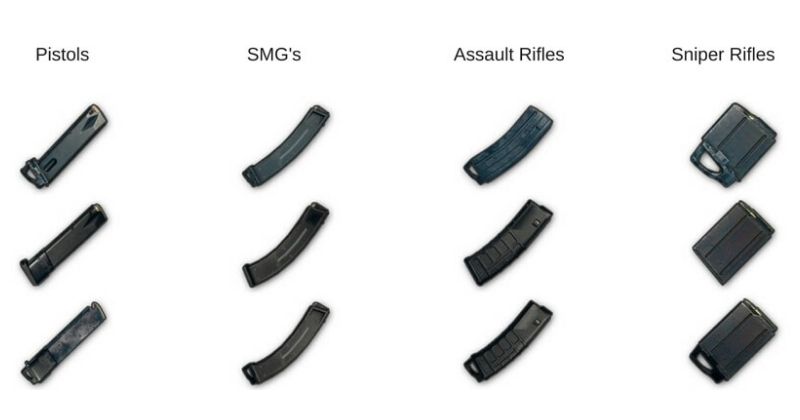 Quickdraw Mag: It will help you to reload your gun faster.
Extended Mag: Instead of 30, you will get 10 extra bullets. So total you will get 40 bullets in your Magazine.
Extended Quickdraw Mag: It is the combination of Quickdraw Mag and Extended Mag.
3. Grip
Grip: There are many grips, and all of them have a certain thing to do. So before you choose any grip, make sure you know the purpose of it.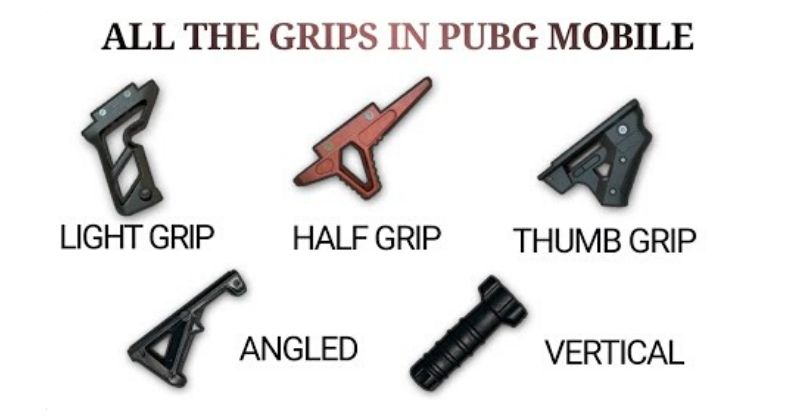 Half Grip: It is mostly used to reduce the recoil and improves recoil recovery. And if you want to use vertical recoil, then you must use Half Grip as it controls it better than it does in Horizontal recoil.
Thumb Grip: Thumb Grip is not good as Vertical grip while controlling recoil, but it is the best while it comes to opening the scope. The main target of this grip is to open the scope faster.
Vertical Grip: Vertical Grip is best among all, as it does all the jobs done for you.
Angled Grip: It will help you to improve your ADS speed, plus it will control horizontal recoil.
Light Grip: If you are using any gun on a single shot, then you must prefer Light Grip.  It will help you to perform better.
4. Scope
Scope: We do not have to explain more about the scope as it is too common for everyone. But which scope to use and when should you use it that is what really matters.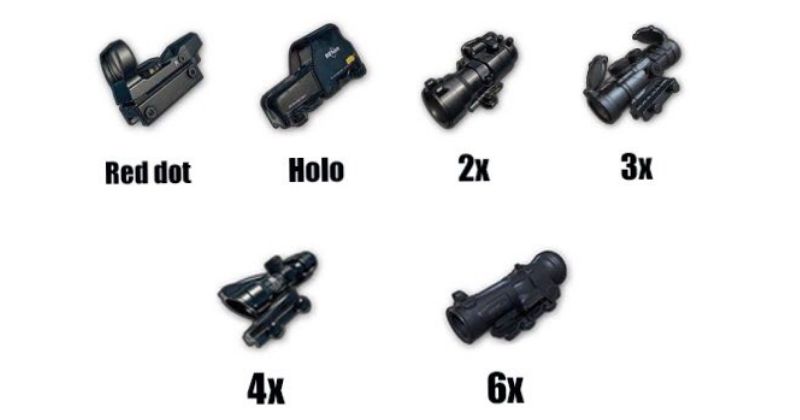 Red dot
HoloGraphic
2X 
3X 
4X
6X
5. Tact Stock
Tact Stock: A must-have attachment that everyone should have on M416. If you have tact stock, then it will help you to control recoil a lot. So before anything else make sure you have attached tact stock with your M416.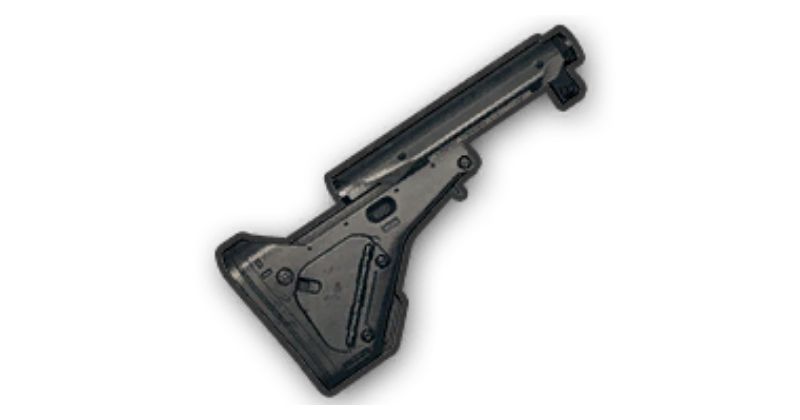 Before jumping which attachment to use, You just need to know for what reason you will be using M416. People do use it for short-range, Mid-range, and long-range fights. So once you decide that for what you will be using M416 next check out its best combination of attachments.
NOTE: Tact Stock is a must-have attachment, so you must use it in all combinations.
Sort-range
If you are taking fights with enemies around 50 meters, then it is considered as short-range fights.
Muzzle: Compensator/ Flash Hider
Magazine: Extended Quickdraw Mag
Grip: Vertical Grip/ Angled Grip
Scope: Red Dot/ Holographic
Mid-range
Mainly players do take mid-range fights which are most like around 100 – 200 meters.
Muzzle: Compensator/ Suppressor
Magazine: Extended Quickdraw Mag
Grip: Vertical Grip/ Thumb Grip
Scope: 2X/ 3X/ 4X
Long-range
If you are trying to hit enemies that are not close to you or they are more than 300-400 meters away from you, then it is considered as a long-range fight.
Muzzle:  Compensator/ Suppressor
Magazine: Extended Quickdraw Mag
Grip: Vertical Grip/ Angled Grip
Scope: 4X/ 6X
If you going to use M416 during the whole game and you will be using it only so here is the best combination of attachments for M416.
Best Combination Of Attachments For M416.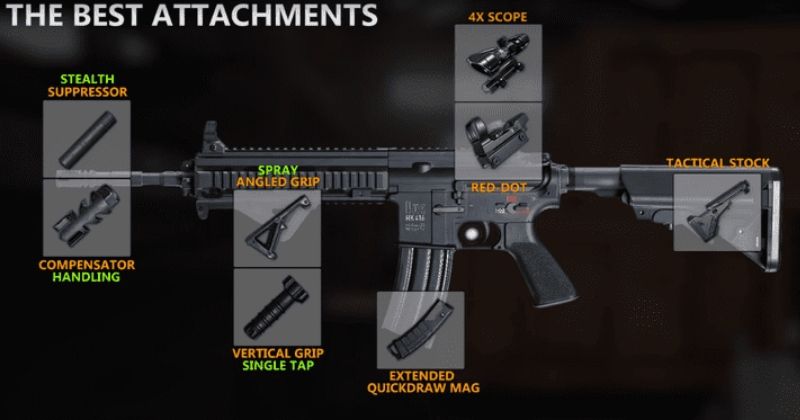 Compensator (AR)
Quickdraw Extended Mag (AR)
Halfgrip
4X Scope
Tactical Stock
Final Thoughts
So, this was all about the best attachments for M416. With all these attachments, you will be able to take on any enemy and will survive for long. We hope this article was helpful to you. If yes, then do share it with your friends also and let them know about the best attachments for M416.