Gone are the days when PUBG MOBILE used to provide free Rename cards in every update. Most of us had valid reasons to change our IGN for at least once more right now, but Tencent doesn't seem to provide that ability for free. In general, a Rename card costs 180 UC and it's not possible for everyone to spend real money on the game to rectify a mistake from past in choosing IGN (In-game name). Lots of people also misused the one rename card they had and they now search for tricks to get another rename card or how to get another rename card in PUBG Mobile for free. So here we are compiling the latest working and genuine tricks to get a free rename card in PUBG Mobile.
There are 2 ways (as of now), which lets players obtain rename cards but both of them require sheer patience & time.
1. Weekly Crew Coin Trick
2. Returner missions
Let's check out each method to get the free Rename Card in PUBG Mobile.
Method 1: Weekly Crew Coin
Steps to Grab Rename Card in PUBG Mobile for Free using Weekly Crew Coin Method.
Open the lower right menu and select the CREW option.
Then in the Right menu, you'll see the Crew Verification option. Click that.
Verify crew and join Crew challenge.
Play crew challenge matches and earn coins or log in every Monday to collect free 30 coins.
This way, collect a total of 200 coins and go to the "Crew Shop".
Redeem the Rename Card worth 200 coins.
There's an in-game challenge mode named "The Crew Challenge" which we all are aware of. PUBG MOBILE allows users to register their 6 man crews for a challenge and in reward you get challenge coins for participating and performing in every match. In fact, you can collect coins even after the challenge is over too. 'The crew challenge' rewards its verified top tier crews or called as 'S grade crews' with 30 coins and a 'Grade S crew' title every week. It's easy to verify your crew too by completing a season of crew challenge and some tasks mentioned in the verification section.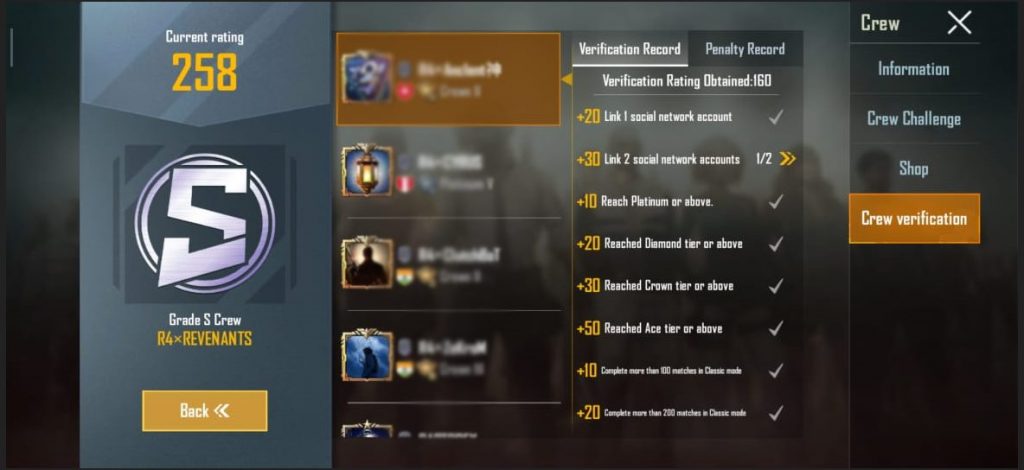 Once you register yourself for the crew challenge you can keep collecting those free coins for 7 weeks making it a total of 200 coins which is also the price of a rename card in crew shop. Or simply you can play crew challenge matches and perform well to earn around 30+ Coins in each match. Making it a total of 200 coins in just a few matches on the first day itself.
Method 2: The Returner Missions
The Returner Missions is something PUBG MOBILE added in 2019 to reward users who come back to the game after abandoning for a long time. To activate the Returner rewards you've to be completely offline from PUBG Mobile for at least 2 weeks or 15 days. Upon logging in to the game again after long, you'll see a screen like the below image. You've to log in for 5 days to collect all the rewards by completing simple missions. The Rename card is one of those rewards along with a permanent outfit or an S12K desert camo weapon skin.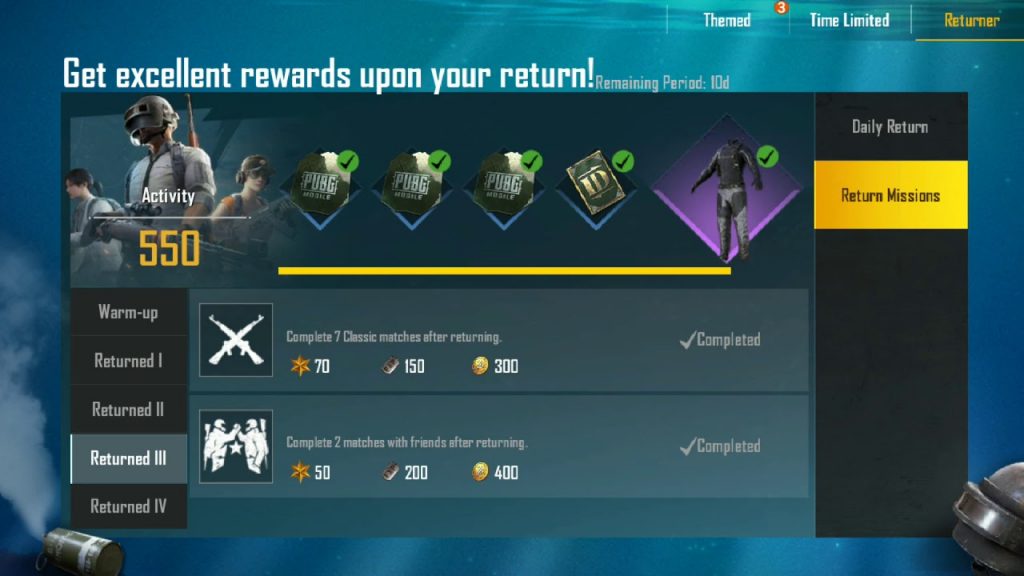 Steps to Grab Rename Card in PUBG Mobile for Free using "The Returner Missions" Method.
Log out of your PUBG MOBILE account and don't log in back for at least 2 weeks or 15 days.
After 2 weeks, log in into your account and you'll see the "Returner Mission" event on the main screen (it may display in a popup too)
Complete simple missions mentioned in the event and get a free Rename Card.
So these were the two working genuine and official methods to earn a Free Rename Card (worth 180 UC) in PUBG Mobile. We will keep updating this article with other working methods. Do you know any other working method? Just comment it below and we would update it here and give you proper credits right in this article. Also, comment below if you face any issues or problems while following any of the mentioned methods to get Free Rename Card in PUBG Mobile. Thank you!