Krafton has earlier announced that there will be an event called "Daily Fortune Pack" where users will be able to purchase "Fortune packs" via in-app purchases and get UCs and other rewards. Battlegrounds Mobile India has introduced the Daily Fortune Pack on 30 June and announced that it would last till July 7. But unfortunately, the event has been shut down due to a technical issue.
Daily Fortune Pack Event Shut Down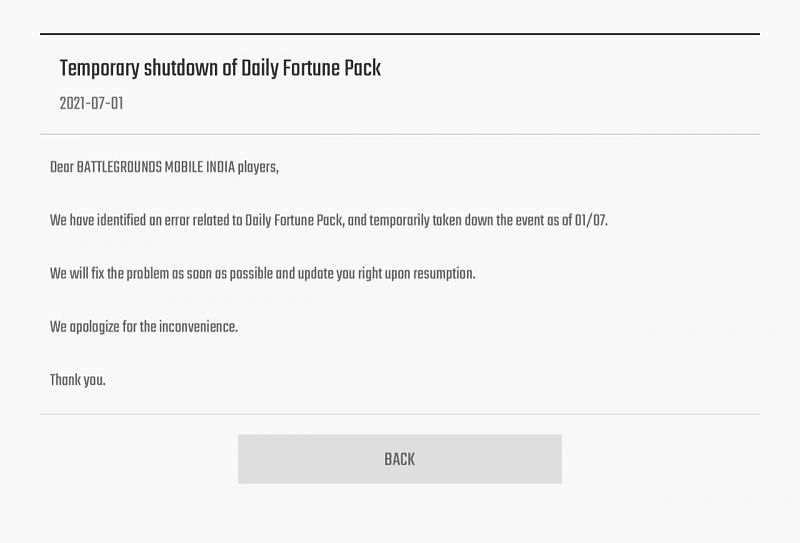 The company has announced that it has faced a technical glitch due to which the fortune pack event is taken down. Once the issue is solved, they will be back and update all the players.
On the official BGMI website, Krafton has posted that the Fortune pack event is temporarily shut down; they have taken down the event on July 1 due to an error. However, the exact problem with this event is not shared by the developers; they have just told the event is temporarily down.
Daily Fortune Pack was added to Battlegrounds Mobile India as a new event where players can buy fortune packs to get random rewards. There are no words on when the event will be resumed, but as soon as they give any update, we will inform you.
Rewards in Daily Fortune Pack
In the Daily Fortune Pack event, the players can purchase three packs, with each having different rewards.
The normal pack price is Rs. 85, and the user gets rewards with a Fortune Bag, 60 UC, and supply crate coupon.
The second pack is priced at Rs.190, and the user gets 2 Fortune Bags, 120 UC, and 2 supply crate coupons.
The last one is priced at Rs. 269 and gives 3 fortune bags, 180 UC, and 1 classic crate coupon.
You can open each bag to get a lucky star and other rewards. Each fortune bag can have up to five lucky stars. Once the user collects a total of 30 stars, the user can claim any permanent outfit.
However, as the event is taken down, all the players need to wait for the event to resume, then only you will be able to take part.
The Indian version of PUBG has introduced as Battlegrounds Mobile India and is currently in early access. The official release date is not yet announced. PUBG Mobile was one of the most popular battle royale games, but due to security reasons, the Indian government has banned the game with other 117 Chinese apps.