PUBG MOBILE has been a popular game because of the open to all eSports platform, where any ordinary player can register themselves for an eSports title. With an announcement from PUBGM about their PMCO (PUBG MOBILE Club Open) tournament a lot of new talents seem to be rising and getting exposure.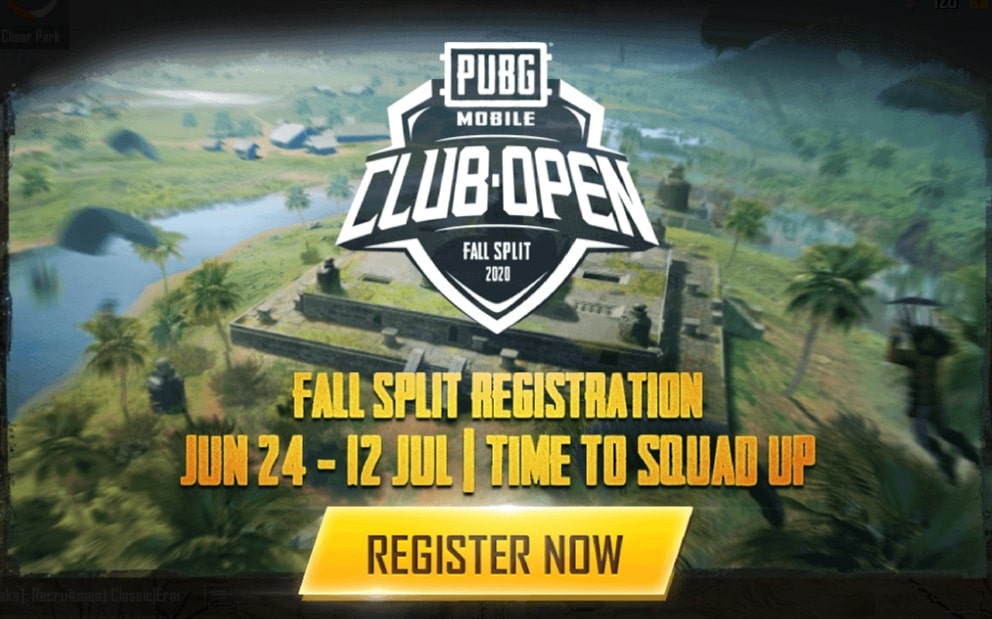 PUBG Mobile Club Open (PMCO) was started back in 2019 and is held in 2 splits i.e Spring Split & Fall split. After 2 splits of a successful tournament, PUBGM announced the PMCO 2020 earlier this year & till now the Spring Split has been won by Team GodLike after a 12 match long finals. Orange Rock eSports managed to secure 2nd spot in the Split. The Fall split was announced recently, whose registration starts from today i.e 24th June 2020, and will go on till 12th July. To register your team for the tournament, follow the instructions below.
Steps to Register Your Team for PMCO Fall Split 2020:
STEP 1: Click Here to visit the PMCO Fall Split Registration Page and you'll see 3 sections such as Introduction, Registration & FAQ. Click on Registration and scroll down.  Enter your Team name, Register region as INDIA or whichever is your Region, and Upload a team logo of 256*256 resolution.
STEP 2: After step 1, You'll see 5 registration slots for your 5 players. (4 Regular + 1 Substitute, if you have any). In the first section, fill the Name of your captain (Write full name as written in any official ID proof), his email address, his character ID (Click here to know how to find PUBG Mobile Character ID), nationality & discord ID.
STEP 3: Scroll down and you will see separate registration boxes for the other 3 players. Fill the correct Name, Email, Character ID & Nationality of your teammates.
STEP 4: If you have a 5th player or substitute, that you want to replace in between the tournament with a current player, then register him/her too. Select [YES] at "We Have Team Member #5" and fill in the details.
STEP 4: Select the following checkboxes to agree with PMCO 2020 Rules, User Agreement, and Privacy Policy, and your squad will be registered for the in-game qualifiers.

That's it. Make sure to submit genuine and correct information asked in the PMCO Fall Split 2020 Registration Form. If you face any issues or problems, you can comment below or check out the PMCO Fall Split 2020 Frequently Asked Questions.
CHECKOUT: How to Get Free Rename Card in PUBG Mobile?
Frequently Asked Questions:
1. When the registrations for PMCO fall split 2020 will be started and closed?
The registrations will be started on 24th June 2020 and will continue till 12th July 2020.
2. When will the In-game Qualifiers begin?
3. What tier do I need to be in PUBGM to be eligible for registering in PMCO?
You need to be in the Platinum tier or above to be eligible for registering in PMCO.
4. What's the minimum age requirement to be eligible for PMCO?
You need to be at least 16 years old to be eligible for playing PMCO.
We've got you covered for all PUBG Mobile eSports news and alerts. Follow us to receive regular news about PUBG Mobile, PMCO, PMIS, and other Gaming news & tips and tricks. Comment down if you have any doubts, opinions about the PMCO 2020 Fall Split.