PUBG Mobile has brought a new revolution to E-sports. Now if you see, there are many competitions out there of PUBG Mobile. Currently, PMIS is going on in India, and if you want to know more about PMIS then you can check all details about it over here: PUBG Mobile India Series 2020
PUBG Mobile's next big tournament is going to be PMCO Fall Split. In this tournament, almost all countries will get a chance to take part. In PMCO, all countries will get the chance to send their best players to represent their countries. PMCO Fall Split Registrations are already started and recently PUBG Mobile officially announced the full schedule too. So without wasting any time, let's check more details and schedule of PMCO Fall Split.
PUBG Mobile Club Open Fall Split 2020 Full Schedule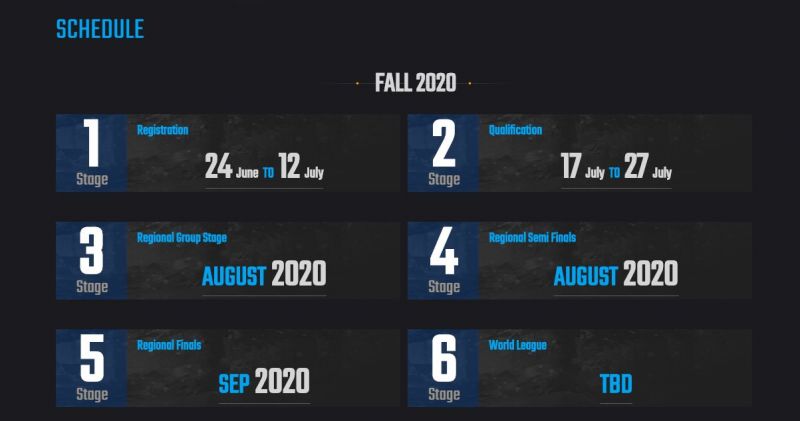 PMCO Fall Split will start in June 2020, and it will last for five months so we will get to see winners in October 2020. PMCO Fall Split will have six stages, and we have tried to cover all stages to give you a brief idea about it. For more details, please refer to the full article.
Stage 1 (Registration)
Date: 24th June to 12th July

The first stage will have a registration; the PMCO Fall Split registration will start from 24th June. You will get 18 days to register for PMCO as it will last till 12th July.
All squads have to register their teams under their own region. If you do not have any idea about registration, then you can refer this How to Register Your Squad for PMCO Fall Split 2020?
So here is the full list of regions that will be taking part in PMCO Fall Split 2020.
India
South Asia
Pakistan
Europe
Latam
Middle East & Africa
Wildcard
SEA Wildcard
North America
Brazil
Turkey
CIS
Germany
Iraq
Saudi Arabia
Egypt
Click Here for full country details.
Registration Details for Hong Kong, China, and Macau China is not yet announced.
---
Stage 2 (Qualifiers)
Date: 17th July 2020 to 27th July 2020
From 17th July in-game qualifiers will start. All teams will get to play a minimum of 8 games and a maximum of 32 games. Each team will get at least 2 chances on each map. From all of these games, only 8 teams will get qualified for the next stage.
---
Stage 3 (Regional Group Stage)
Date: August 2020
PMCO will have the top teams from the in-game qualifiers from all the regions, and then they will compete for PMCO Fall Split 2020 Regional Finals. There will be a total of 32 teams playing against each other. From these 32 teams, the top 24 teams will go to the next stage, i.e. the PMCO Fall Split Regional Semifinals. PMCO 2020 Fall Split has more regions than the PMCO 2019 Fall Split.
---
Stage 4 (Regional Semifinals)
Date: August 2020
All the qualified teams will compete to reach the Regional Finals. At last, the top teams with the highest points will go to PMCO Fall Split Regional Finals 2020.
---
Stage 5 (Regional Finals)
Date: September 2020
All the teams who got the highest points in Regional Semifinals will play against each other in PMCO Fall Split Regional Finals 2020. Moreover, before the teams go to PMWL 2020, PMPL 2020 will be held for South Asia, Europe, America, Wildcard, and Middle East & Africa regions. And all the teams from other regions will directly go to PUBG Mobile World League 2020.
---
Stage 6 (World League)
(Date: TBD)
In PMWL 2020, there will be teams from the whole world. All the teams will battle against each other to win the title.
Official Announcement video of PUBG Mobile Club Open Fall Split 2020:
Final Words
PMCO is not the same as PMPL, PUBG Mobile has many tournaments going on, But the top tournaments are PMPL, PMCO Fall Split, and PMCO Spring Split. If you want to know more about PUBG Mobile, then do check out our other blogs as we have posted about so many tricks and tips. Moreover, if you find this article helpful, then please do not forget to share it with others.