Minecraft is a sandbox video game, where players can create and break different types of blocks. There are two main modes in the game, Survival, and Creative. In Creative mode, all the players don't need to eat to survive and they are given supplies. They can break any block at any time. However, in Survival mode, they need to find their own supplies and food. They come in contact with blocklike mobs, or other creatures like creepers and zombies.
You can play this game alone or can play online. The paid version of the game price is $26.95 for the computer version, the Xbox version is $20, and the $6.99 for the tablet. In the game, there are many things that should be created on your own, like Smoker, Saddle, Fence, and more. Everything is easy to make, you just need to know the proper steps and the requirements. So, today, we are going to learn how to make Smoker in Minecraft.
Smoker in  Minecraft
In Minecraft, Smoker is used to cook food items. It is similar to a furnace, but as compared to this, the smoker works faster. However, to make good use of it, you need to first learn how to make a smoker. So, here we are, to help you out by providing the recipe of Smoker in Minecraft.
Required Things to make Smoker
To craft a smoker, you will need the following things:
Crafting Table
A Furnace
4 wood, logs or stripped logs
Note: You can use any type of wood, like oak, spruce, birch, jungle, acacia, or dark oak. You don't need to gather it all
How to Make Smoker in Minecraft?
Gather all the ingredients mentioned above and then follow the given steps to check the recipe of the smoker in Minecraft.
Step 1: Crafting Table
First, you need to open a crafting table of 3×3 grid as shown below.
Step 2: Add Items
As we have all the items ready, now place them as shown in the picture. In the crafting table, place furnace in the center of the table and around it keep four woodblocks left, right, top, and bottom.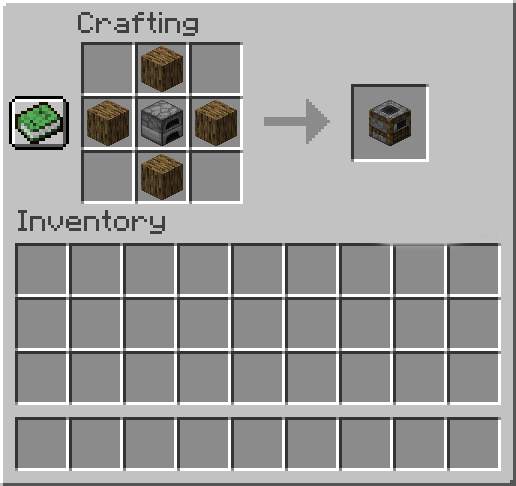 However, while making a smoker in Minecraft, this step is very important, so be careful here, as the furnace and wood blocks should be placed exactly as shown. This is the recipe for crafting Minecraft smoker.
As everything is correct, you will see the smoker on the right side of the box.
Step 3: Move Smoker to Inventory
As the smoker is ready, you should move the item to your inventory. Place it at an appropriate location, and if you want to move it in the future, then use a pickaxe.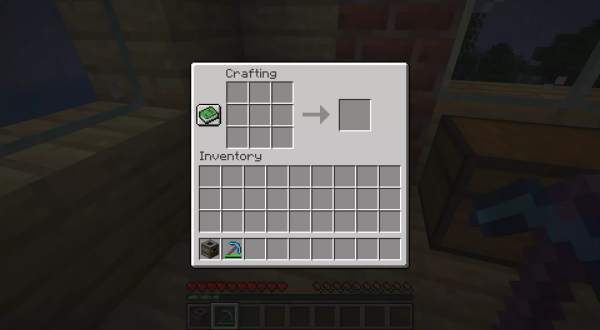 That's it! this is how smoker is made in Minecraft.
Now, as we have seen the recipe of a smoker, let us check out how to use it in Minecraft.
How to Use Smoker in Minecraft?
Smokers are used to cook meat and other food items faster than the furnace. Here are the steps to use a smoker.
There are few items that can be cooked in a smoker, like a potato, raw beef, raw Porkchop, raw mutton, raw chicken, raw rabbit, raw cod, salmon, and Kelp.
Step 1: Take Smoker
As you have crafted a smoker, place it wherever you want.
Step 2: Add Fuel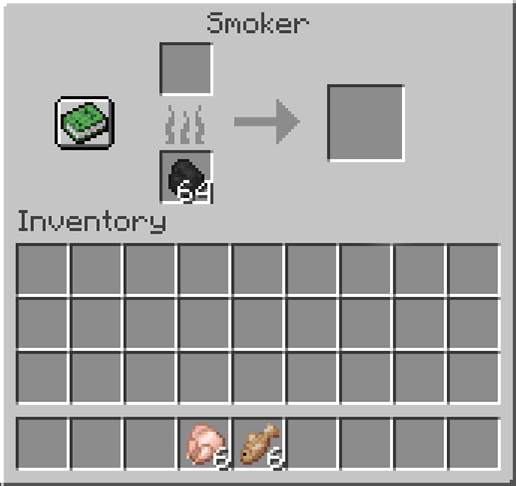 Now, you need to add fuel to the smoker and place food items that you want to cook. (You can place raw meat or anything).
Step 3: Food is Ready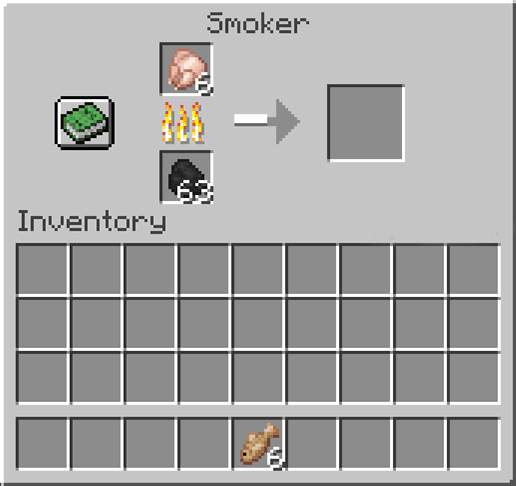 Once the raw food is cooked in the smoker, you will see it in the right side box.
Step 4: Move Food to Inventory
Now, move the cooked food to the inventory.
That's it! This is how you can use Smoker in Minecraft.
Find Smoker in Minecraft
You can easily get a smoker by crafting, but if you don't want to craft then here are few places, where you can easily find a smoker.
Look for a village and find butcher NPC
Mine the butcher's smoker via pickaxe and then pick up the smoker and place it back wherever you want to.
F.A.Q's (Frequently Asked Questions)
What can you cook in Smoker in Minecraft?
By using a smoker, you can only cook food items in Minecraft like Raw Beef, Potatoes, and Kelp.
Crafting recipe for Smoker in Minecraft?
You will need a crafting table, furnace, and 4 wood, logs, or stripped logs.