Since Battlegrounds Mobile India was announced the fans have gone crazy and are eagerly waiting for the game to release. The rebranded version of PUBG Mobile has yet again released a new teaser that hints the game is launching soon. All the social media handles of Battlegrounds Mobile India have posted a new poster that says,  "it's almost time".
This means the wait is going to end very soon, as the release of the game is an inch closer now. However, the official date is not yet announced but there are rumors of 18th June. Now, let's wait for the official announcements.
Battlegrounds Mobile India New Teaser Says, "It's Almost Time"
The teaser also says to get ready for the "Chicken dinner". This makes the fans much crazy and is getting more excited for the game. This is another hint that shows the Battlegrounds Mobile India will be much inspired by PUBG Mobile.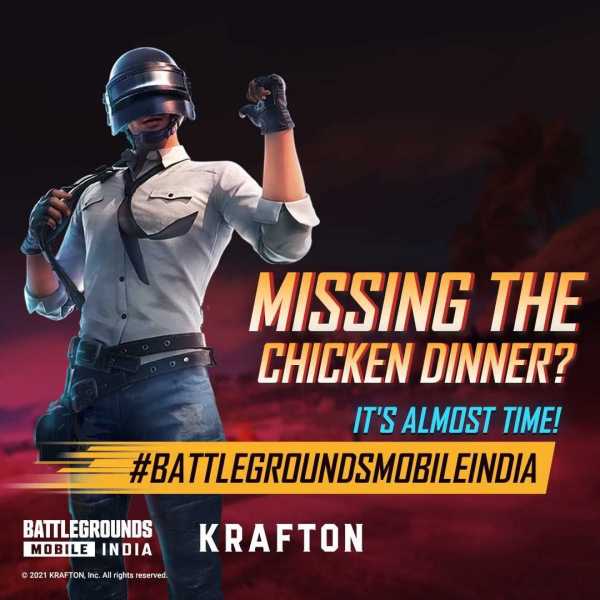 However, there is still a problem, as some of them still consider Battlegrounds Mobile India as a threat to security and say it is linked to PUBG Mobile. Some of them have written a letter to PM Modi to ban this game from releasing.
The Pre-registrations are already live on Google Play Store from 18th May and have broken the record of crossing 20 Million registration in two weeks. A couple of days back, Krafton has revealed that the Indian version of PUBG will have an Erangel map, a UAZ off-road jeep, and more. With all these details, we can clearly say that the game will be similar to PUBG Mobile with few minor changes.
ALSO READ: UAZ Jeep of Erangel Map Seen in Battlegrounds Mobile India Teaser
Battlegrounds Mobile India is an alternative to PUBG Mobile for Indian users. Earlier the game was supposed to launch as PUBG Mobile India, but later Krafton changed its name. The Indian version will have different game modes which can be played one-on-one or with squads. It will have in-game events, outfits, and other features.
Will There be a Beta Version of Battlegrounds Mobile India?
According to the reports, there will be no beta version of the game.
Release Date of Battlegrounds Mobile India?
There is no announcement of the release date of the game, but as per the rumors, the game can release in the third week of June i.e, 18th June.
When will the iOS version of Battlegrounds Mobile India Release?
There are reports that there will be no pre-registration for iOS devices. All the iPhone users will be able to directly play the game once it is released for Android.