As we all know Garena Free Fire has collaborated with superstar Hrithik Roshan. A new character in the game is on the way and the character is Hrithik Roshan as Jai. This character is not free for any players in the game. But as it is a new character, the developers have kept some event to get the character for free. If you don't know about Jai character as Hrithik Roshan, you can check out this post: Bollywood Star Hrithik Joins 'Free Fire' as a New Character "Jai"
However, the character is available in the game, but it is locked. To unlock it, the players need to solve the Jigsaw puzzle and complete the Golden Magazine task.
BeTheHero Event Starts Tomorrow
The developers have kept #BeTheHero campaign, with this the players will be able to redeem the character of Jai to play in the game. The character, costume bundle, and other rewards will be redeemed by completing the missions. The campaign is already started from 5th September. From 5th September to 15th Sept the players must Collect Golden Magazines to claim Jai character costume.
The second round of the event is from 10th September to 13th September the players need to Collect Jigsaw Pieces to claim Jai character for FREE.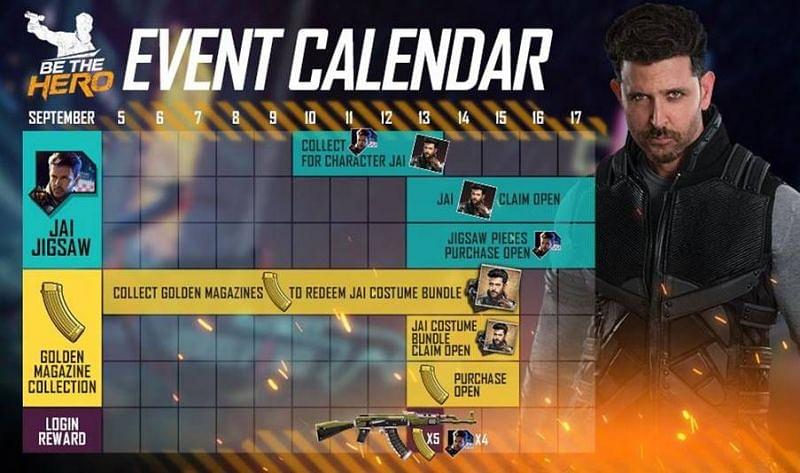 Character Jai
Jai will be coming with Raging Reload skill. Once the player kills the enemy, the gun's magazine is automatically reloaded by 25% of capacity for ARs, SMGs, and pistols.
Get Jai character for free by solving Jigsaw Puzzle
You can get Jai character for free once you get all the 16 pieces of the puzzle and complete it in the event. To participate in this event, the players will be awarded with puzzle pieces. The mission is from 10th to 13th September. So, if you get all the 16 pieces of the puzzle you will be able to redeem the character on 13th September.
Rules for Jigsaw Puzzle are every day a player will get one unique puzzle piece which the player must check in the event from 10th to 13th Sept. And on last day, 13th Sept. the players will get three puzzle pieces in the event. For all the Free Fire user, there is one puzzle piece which they can obtain by clicking on the event link. The event link will be refreshed daily and will be unique.
However, the Golden Magazine event is going to and will be ending on 15th September. In this, the players must collect golden magazine tokens by completing the missions. The players must collect 30 golden magazine tokens then they can redeem Jai's costume bundle. Do not forget to redeem the costume as the time is from 13th to 15th September only.
Also, the players will get a bonus on 13th September. The players can win five golden magazine tokens and a permanent gun skin the AK47: Justice Fighter.