Now, any player will not face a problem with the unknown Teammates in PUBG Mobile. As the practice of Merit points have started in PUBG Mobile. To be safe in the game, you need more Merit points, so the player has to increase the Merit points. So, do you know how to increase Merit Points? Don't worry, here in this article we will explain to you how you can increase Merit points and all other details regarding it.
Before we see how to increase Merit, first let us know what is Merit in PUBG Mobile?
What is Merit Point in PUBG Mobile?
In PUBG Mobile, each player has their own Merits, which is seen in the profile easily. Usually, we can say Merit is a scale for a player to find the match according to their behaviour. Each player Merit points are added or deducted by PUBG system automatically.
Each player gets 100 Merit Points in total. If you kill your own teammates, then  30 points will be reduced. However, the player must keep a minimum of 60 points in their profile. If there are less Merit Points, it is difficult to play the game. Remember, do not get Merit points in the wrong way, you may get banned.
So, if you are the one with less Merit Points in PUBG, then follow the given steps below and increase the Merit Points.
How to Increase Merit Points in PUBG?
If you kill your own teammate, then 30 Merit points are reduced.  So, increase the Merit Points to avoid difficulty in PUBG.
You must play Solo Classic Matches.
In Classic matches, you will get points based on which position you came.
If you come in the top 10, you will get 3 Merit points.
If you end the game in 11th to 50th position, then you will get 2 Points.
And if you are ranked between 51th to 100th place, then you will get 1 point.
Likewise, play a game in classic mode and try to end the game in the best position to earn more points.
How to check Merit Points?
Check the Merit points by visiting your Profile.
Click on Profile
On the right-hand side, you will see Tier Overview
Click on that
You will see Merit points at the bottom left side of the screen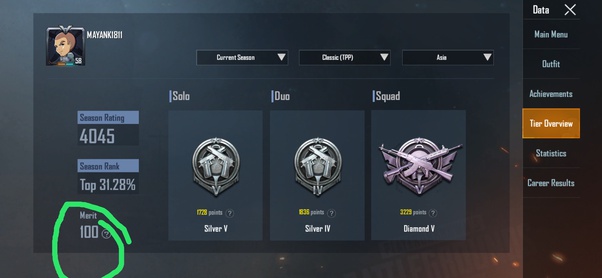 So, this is how you can increase Merit Points in PUBG Mobile.
If you are interested in PUBG Mobile, then keep visiting our site PlayerZon Blog. All the latest updates of PUBG Mobile is given here.