Free Fire has announced that it is collaborating with a famous rapper and a DJ KSHMR. DJ KSHMR is an American music producer who will be an ambassador of Garena Free Fire. You will also see a character of him in the game. Apart from this, recently Free Fire has also collaborated with a popular Bollywood actor Hrithik Roshan. The game also has many other famous faces like Money Heist, DJ Alok and others.
While the players are still enjoying collaboration with Hrithik Roshan and Money Heist, Garena has announced about another partnership with KSHMR. Everyone is surprised by this sudden announcement.
New Character in Free Fire, Partnership with DJ KSHMR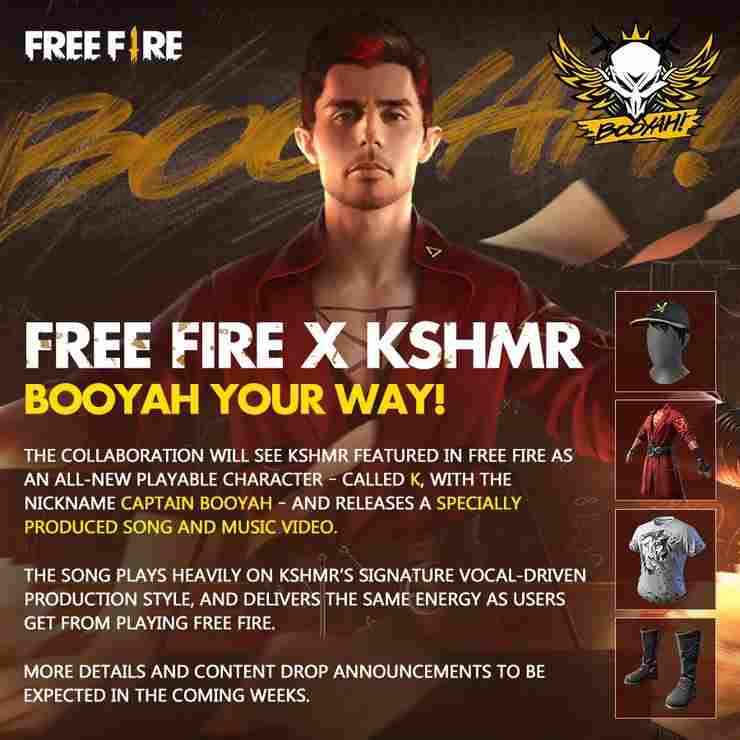 This new collaboration brings new character based on KSHMR, who will be named as "Captain Booyah". As he is a rapper, the partnership is also getting an exclusive new song and a music video also.
KSHMR said,
"The song I wrote for this collab has the intention to inspire people all over the world."
Along with the new character, new skins are also coming.
According to the Free Fire, Captain Booyah new character will be releasing soon to the game.
This is the second partnership with a DJ as Alok is also a Brazilian music producer and he is already there in the game as a character. At the time of collab with Alok, he also released a song "Vale Vale" with the game. They played the music in the Free Fire Wolrd Series 2019 finals.
It is expected that the new character and the song will be out in October. The music will be released on the official social media channels.
About DJ and a Rapper KSHMR
The real name of KSHMR is Niles Hollowell-Dhar. KSHMR (Kashmir) is his stage name. Niles was born in America as his mom belongs to Amerca and his dad in an immigrant from India. In the year 2017, KSHMR came at 12th position in the list of top 100 DJs. He has also founded his own record label, Dharma Worldwide.