The qualifiers for "BMOC The Grind", short tournament lasts for 4 days from 31 March to 3 April in which a total of 32 teams are competing for 24 league stage spots. A total of 12 matches were played by each team in this event where each day the opportunity to compete in 3 matches for a team was there to score more points and stays in top 24.
Total 32 teams were divided into 4 groups of 8 teams each where 5 matches were played in total each day between the groups.
Group A
Skylightz Gaming
7Sea Esports
Marcos Gaming
Chicken Rushers
Soul
Chemin Esports
Global Esports
Reckoning Esports
Group B
TSM
8Bit
Nigma Galaxy
Orangutan
Big Brother
Hydra Official
FS Esports
Team Celtz
Group C
Team XO
OR Esports
True Rippers
Team Mayhem
Team Forever
Blind Esports
Inside Out
Team XSpark
Group D
GodLike Esports
Revenant Esports
R Esports
Team Insane
Hyderabad Hydras
Revenge Esports
Entity Gaming
Enigma Gaming
Teams Qualified for League stage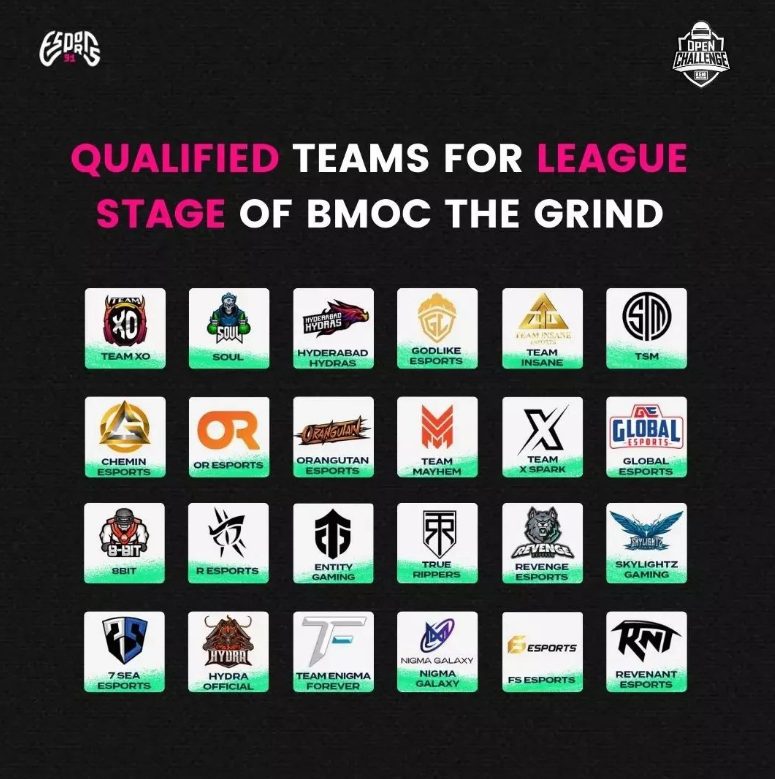 After qualifying through the Qualifiers, the 24 teams will be grouped into three groups. Only the top 16 teams will advance to the Final Stage of the competition.
Team XO and Team SOUL remains throughout the tournament and gave a tough competition to all others teams with two and three Winner Winner Chicken Dinner respectively.