Krafton has announced a new update of Battlegrounds Mobile India 1.6.5 October update. With the new update, BGMI gets many new features. One of the best things is, BGMI is getting Mega modes which are the old modes of PUBG Mobile. The most awaited game mode is Runic Power mode. One can play this mode in the EvoGround Mode of BGMI.
There are different modes, including Survive Till Dawn, Runic Power, and Infection mode. It was said that Runic Power will be available to play from 15 October, so now it's available, and here we are to explain to you how to play Runic Power Mode in BGMI and other details.
What is Runic Mode in BGMI?
Runic Mode can be played in Erangel map. It offers three special powers Flame, Ice, and Wind. The player can select any one of the powers and can use their abilities to show their combat skills in the Battlegrounds Mobile India. However, when you choose the power, be careful because if you select the wrong one, you might lose chicken dinner.
You can download the Runic Mode from the EvoGround section. After you start the game, all the players will be landed at the spawn island, and then they need to select the runic power.
Three Types of Crystals (Power) in Runic Mode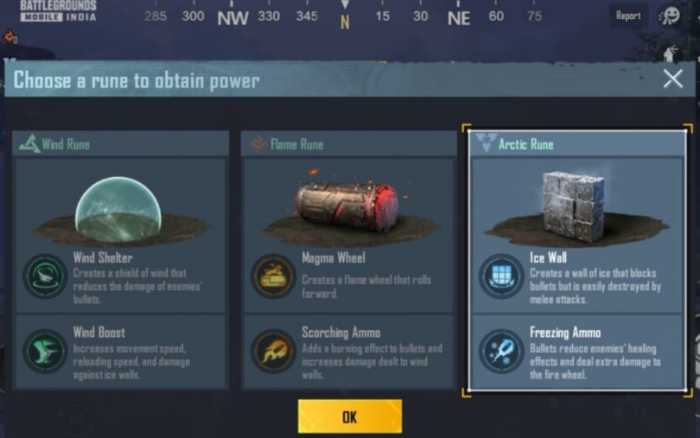 In Runic Mode, there are three types of Powers:
Flame Rune
Wind Rune
Ice Rune
Flame Rune
The Flame Rune has Magma Wheel and Scorching Ammo power. This rune is the best one if you like to run behind the enemies as soon as you spot them. It rolls a wheel and creates a burning effect in the bullets that increases the damage capacity of the ammo. Moreover, players can easily destroy the wind shields.
Wind Rune
In Wind rune, players can create a Wind Shelter. It reduces the damage from the enemy's bullets. Also, you can increase the movement speed and inflict damage on the ice walls. If you have a good squad, then it's best to use this power.  Wind Boost increases the player's movement speed and reloading.
Ice Rune
It is also known as the Arctic rune. Ice Rune creates an ice wall that helps in defense, and it uses freezing ammo as an offensive skill. Arctic Rune power is suitable for players who wish to play defensive gameplay. The ice walls are helpful in a close-range fight. One can use this power if you are stuck in an open area, and the enemies are firing at you.
Players can access any power automatically as they will get 100 rune crystals, 50 for defense and 50 for attacking. One can collect crystals anytime in the game as they will be available at different locations on the map.