Battlegrounds Mobile India is the Indian version of PUBG Mobile with most of the similar features. However, the developers have done a few changes in the game to comply with the Indian rules. In BGMI, there are rules like age restrictions, which means the players below 16 will need parental consent for playing.
The other feature that has changed in the BGMI is the hit color. In PUBG Mobile, when a player used to kill the opponent, then it showed red color, but now it has changed to green color. However, if the BGMI players don't want green color, then they can change it from the settings, but there is no option for red color.
So, if you are willing to change the Hit color in BGMI, then here we are with a full guide.
How to Change the Crosshair Colors in BGMI?
Follow the steps to change the crosshair colors or style in Battlegrounds Mobile India.
Open the BGMI game on your smartphone
From the home screen, click on the "Arrow" button, which is at the bottom right corner.
Click on Settings from the sidebar
Look for the Scope button and click on it
Here select the scopes from the options like Red Dot Sight, Holographic Sight, Centered Sight, 2x, 3x
Select any color as per your choice for the crosshairs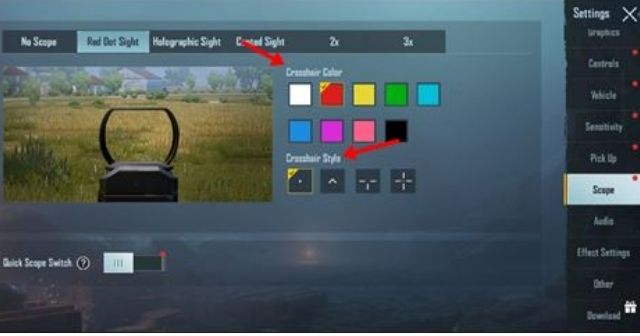 In the same way, you can also change the style of crosshairs. Follow the same above given steps till scope:
When you select the color for crosshairs, under that, you will see style options as well
For Holographic, Canted, 2x, and 3x scope, modify the settings
That's it! You are done.
This is how you can change the Crosshair color and style in BGMI.
Different Color Options Available for Crosshair in BGMI
There are nine color options for crosshair in Battlegrounds Mobile India.
White
Red
Yellow (Sunflower)
Green
Blue
Curious Blue
Purple
Brink Pink
Black
So, these are the details of Crosshair colors in Battlegrounds Mobile India. We hope this article was helpful to you. Stay tuned for more updates.