All the PUBG Mobile fans can get their account to the new or a rebranded version, Battlegrounds Mobile India.  As, from the time Krafton has announced the comeback of the game with a special Indian version, the question that came to everyone's mind was what will happen to their PUBG Mobile account. Will the gamers be able to get their progress in the new game? Finally, with the open beta version of Battlegrounds Mobile India, the developers have provided an option to transfer the old account to a new one.
Battlegrounds Mobile India has brought early access to the game for all Android players that can be downloaded from Play Store or from the given link. Once you become a tester you can download the game and at the time of login, you can use the same account that was in your PUBG Mobile account. If you are lucky to get access to the beta version, then follow the given steps to transfer your PUBG Mobile data to Battlegrounds Mobile India.
How to Transfer Your PUBG Mobile Data to Battlegrounds Mobile India?
Follow the given below steps to successfully transfer your old PUBG Mobile data to the new Battlegrounds Mobile India.
First, download the Battlegrounds Mobile India game on your phone and open it
Accept the privacy policy and you will be taken to a home page where you need to log in.
Now, select the option for login via Facebook, Twitter, and Play Games. (Facebook & Twitter can only transfer data).
Accept the Terms of Service and it will ask you to create a new character.
Then it will ask the user to confirm whether they are from India.
Next, you will see a windows pop-up of "Account Data Transfer" Click on "Yes"
It will ask if you want to transfer data to the "New App", here tap on Yes, and continue

Another window will ask for confirmation and will let you know that the data will be transferred to Battlegrounds Mobile India, click on Yes

It will redirect you to its login page, depending on which account you have selected from Facebook or Twitter.
Here, enter your ID and password
Confirm if you want to transfer your data and click on Yes.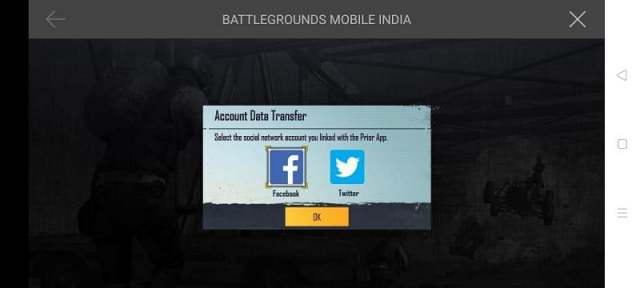 That's it! Your PUBG Mobile data will be successfully transferred to Battlegrounds Mobile India.
NOTE: The last date of the data transfer process is 31st December 2021, after that you won't be able to do this process. And in the new app, some data might not be transferable like in-game mails and attachments. Once the data transfer is done, you cannot restore it.
To know the downloading process you can visit here: How to Download Battlegrounds Mobile India on Android? [Download Links]
So, this how you can transfer your old PUBG Mobile data to the new game Battlegrounds Mobile India. And if your want to transfer the data, then make sure you have an account with Facebook and Twitter while login, as the third option of the Google Play account will not let you transfer the data. According to the game, the accounts with Google Play Games cannot transfer the data as it does not support the sign-in process from embedded browsers.