Battlegrounds Mobile India has a massive player base. It has unique in-game aspects including a Royale Pass system. The Royale Pass offers different rewards like gun skins, outfits, vehicle skins, and more.
At present, the BGMI's M5 Royale Pass is going on and ends after one week. After this, there's a Royale Pass M6 and for this players are already excited as the details of it have been leaked. Here's a full list of rewards and skins that will come in the M6 Royale Pass. The BGMI M5 Royale Pass will continue till 20 December 2021.
Leaked Details of BGMI M6 Royale Pass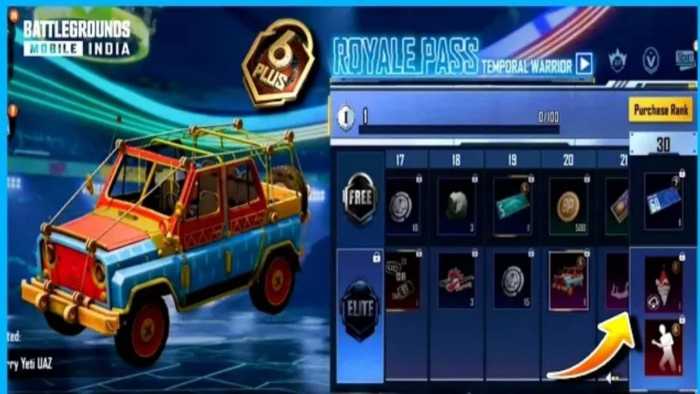 The price of the Royale Pass M6 will be the same, there are two paid versions Elite Pass and Elite Pass Plus that costs around 360UC and 960UC.
In Rank 1, players will get Supply Crate Coupon Scrap. From the event, players can get one crate coupon. As per the leaked details, there are chances of the arrival of Merry Yeti Win94.
 Royal Pass RP 5 reward is a Merry Yet face Cover
Royal Pass Rp 10 reward is a Helmet Skin Name as Jolly Festival Helmet.
RP 15 players will get an exclusive Emote and Avtar Frame.
RP 20 will get UAZ skin, Merry Yeti UAZ.
 RP 25 free Outfit named Vibrant Youth Set.
RP 30 will get Emote and Hat.
RP 35 will get free Ump45 Gun skin named Reptilian Gaze
RP 40 will get a free MK12 Gun skin name Silent Night-MK12.
RP 50 get Frozen Guardian Set(Outfit) and Frozen Guardian Cover (Headgear)
All of these rewards are from Paid premium Pass rewards. If the players do not have the Royale Pass then they will get a few free rewards by completing the daily missions and weekly missions.