Battlegrounds Mobile India is a survival game where 100 players fight against each other to win a Chicken dinner. It is tough to survive in the game for so long if you don't have proper skills. If you are a proper gamer then you should know few tricks that help you to trick other players so you can easily kill them.
One of the features is "Hide Helmet" to make it look cool. You might have seen a player who hides his helmet. This helps you to get a clear view as you won't be distracted. However, this feature applies only to yourself, as other players can still see you wearing a helmet. But not everyone knows this feature.
There are advantages and disadvantages of enabling the feature, the plus point is you will get a clear view and can easily kill your enemy. The downside is you won't know the helmet is of which level so you get confused.
Types of Helmet in BGMI
There are three types of Helmet in BGMI:
Motorcycle Helmet (Level 1) – Damage reduction by 30%
Military Helmet (Level 2) – Damage reduction by 40%
Spetsnaz Helmet (Level 3) – Damage reduction by 55%
ALSO READ: BGMI: How to Change Camera View in Battlegrounds Mobile India
How to Hide Helmet in BGMI?
Follow the steps to Hide Helmet in BGMI:
Open the game and go to the Inventory section from the home page which is at the bottom right corner.
From the left side, click on Settings


You will see Show Settings in the Main Menu tab
Here, look for Hide Helmets in  Matches option and turn the toggle on
That's it! Now your helmet will not be visible to you in the game.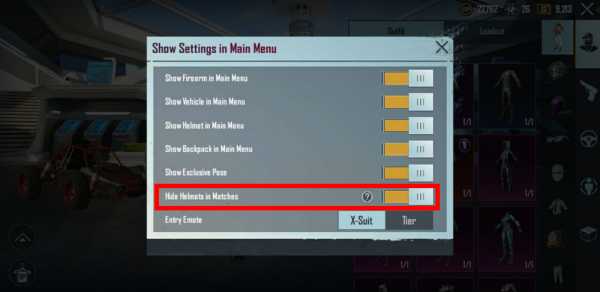 As you have hide the helmet you will not know the helmet Level. So, here are some ways to find out the helmet level after hiding the helmet.
How to Unhide Helmet in BGMI?
As you have now hide the helmet, there are many players who are not comfortable with it. So, if you are one of them and want to unhide it then follow the given steps to unhide the helmet in BGMI.
Open the game and go to the Inventory section
Open Settings and go to Show Settings
Now, look for Hide Helmets in Matches option
Turn off the toggle option and you are done.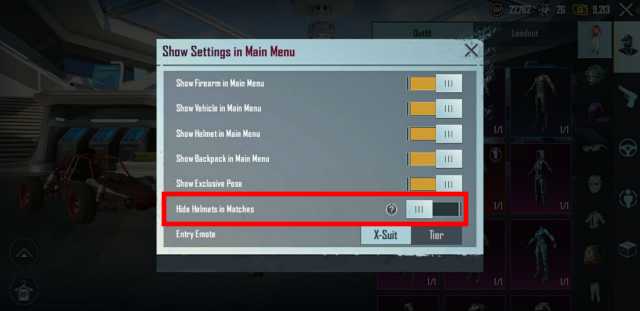 You can now play normally as you were playing a match.
How to Find My Helmet Level After Hiding the Helmet?
There are two ways to find the Level of the helmet.
Method 1: From Health Section
In the Health Section, the number of yellow lines indicates the level of the helmet. As there are three helmets all three have yellow lines from which we can guess the helmet level.
One Yellow line – Motorcycle Helmet
Two Yellow lines – Military Helmet
Three Yellow lines – Spetsnaz Helmet
Method 2: From Bag
Click on the Bag icon and find the Helmet you are putting on next to the gun.
When you hide the helmet, the only disadvantage is that you will not notice whether your helmet is available or not, and because of this you might easily get killed.
We hope this article was helpful to you. Stay tuned for more updates.