In BGMI when we talk about in-game items, then there are many ways to get them. But in all ways, you will end up paying some kind of in-game currencies. There are many types of in-game items available such as skins for guns, character's clothes, Backpack skin, and a lot more. Having better skins or in-game items makes you stand out from other players.
If you are reading this then you must have played BGMI at least once. So you already know that there are many types of in-game items available like common, rare, legendary and etc. There are many weapons, skins, and other things that are common which everyone has, and some are rare items that not every player has. And the Legendary items are so difficult to get. So in today's article, we will show that how you can claim a Legendary Backpack skin.
How to Claim Legendary Backpack Skin for Free in BGMI
There are many ways to claim skins, but if you do not have enough UC then you will have the least ways to do it. If you have enough UC then it is so easy for you to get any skins. You just have to open crates and boom you will get your favorite skins like that.
ALSO READ: How to Get Free & Permanent Outfits in Battlegrounds Mobile India
There are many people who do not have enough UC so this trick is for them only.  Recently Krafton has announced their latest event for BGMI. In this event, BGMI users will be able to claim free skins. So here is the method in which you can claim and keep your backpack skin permanently for free.
To get started first update BGMI to the latest version and check if the "Future Leap Event" promo is there or not. If you have found a promo for the Future Leap Event then you are good to go.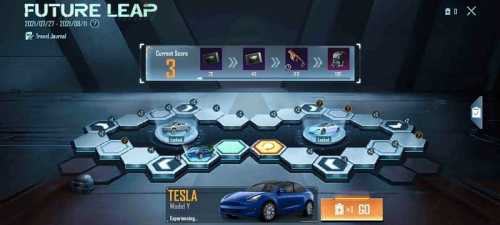 As you can see in the image this event has been started on July 27th (Today) and will end on August 11th. In this event, you can claim multiple things as such supply crate coupons, classic crate coupon, and a Comic Pop Vector skin for a limited time period.
Here you can view step by step guide to claim your free backpack skin:
The very first step is to start the BGMI game and find the Future Leap Event, Check the below image for more details
Now you will have to complete few tasks like:

Daily logins
Travel for some time in-game
Fight with enemies so you can deal with damage


After completing tasks you can have seen that you are getting rewards in form of batteries.
Now by using those batteries you can start the journey of the Future Leap Event.
On each lap, you will see that Tesla cars will get changed by the latest models.
Now just try to complete all tasks on daily basis and you will receive your permanent backpack skin.
Make sure to use all the batteries in the event only. There are no use of batteries after this event.
On completion of the event check, your inventory for Backpack skin.
If you got one then please share this article with others.
So this was all about Backpack skin but if you need skins for Weapons, Vehicles and other things do not forget to check out our website Playerzon.com. On this website, we do post tips, tricks, and how-to articles for BGMI and other games too.
You can also check out the video to know how to claim free Backpack Skin