Krafton has released an update to the Battlegrounds Mobile India for Android and iOS that brings new features to the game. One of the biggest addition to the game is a "New Mirror World." If you remember, Krafton announced a partnership with Riot Games to celebrate the release of Arcane on Netflix, so the New Mirror World is a part of that content.
BGMI 1.7 Update is Now Available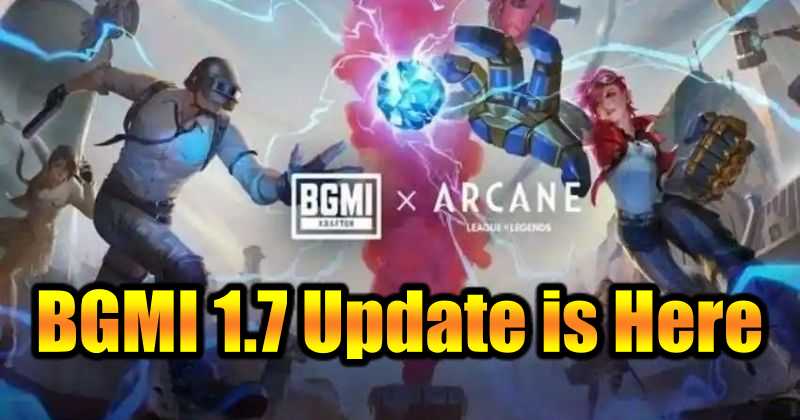 Apart from the New Mirror World, there are classic updates, and a few other features like old popular PUBG modes are introduced for a short period of time.
Mirror World
Mirror World is available in Erangel, Sanhok, and Livik maps in an opening in the sky. The players can enter this world by using the Wind Wall on the ground. Once you enter here, you become Arcane characters, Jinx, Vi, Jayce, and Caitlyn. You can also get emotes, weapons, and other abilities.  It also allows you to change your characters.
Other Features
The Battlegrounds Mobile India 1.7.9 update brings many other features that will be available later this month. The piggyback feature will be back in the Classic Mode; it allows the players to carry knocked-out teammates. However, if you carry a teammate or an enemy, it will slow down your speed, and you can't use a weapon or vehicle.
Even there are changes coming to weapons. The new grenade indicator will tell you the exact location of the grenade, and the updated weapon balance will affect the SLR, SKS, mini14, VSS, and DP28.
After the Arcane event, there is Liverpool FC collaboration, which brings a few events like The Reds. During these events, there will be rewards like Liverpool FC parachute, Liverpool FC backpack, and Liverpool FC jersey.
Also, there will be a Recall event where you can play with 8 friends and win the tokens. These tokens can be exchanged to earn rewards like SCAR-L Malachite permanently.