BGMI has gained a lot of popularity within no time. We all know that it is a rebranded version of the PUBG Mobile battle royale game that was banned last year in India. If you are a regular player, then you must be aware of the in-game tier and RP Rank that shows a lot about the gaming skills of a player. In the BGMI game, there is a section "Career" which displays the career statistics of a player.
This career statistics section has information about:
Total number of matches played
Total kills
Current RP Rank
Career Results
Current Outfit and much more…
Any player of BGMI can view this information of yours. But not everyone likes to share their statistics with others, so they can hide their career results section.
Here in this article, we will share details on how to hide the career results information in BGMI. However, most of them might be knowing this, but if you are a new player or who still don't know about these settings then you can try out this method shown below.
Career Results Section Will Have The Following Details
In the Career Results, you can see Mini Stats and Detailed Statistics.
Mini Stats will show:
Mode
Ranking
Finished
Score
Rating
Server
Detailed Statistics will show:
Individual player stats
Distance traveled
Health Restored
Total Supplies
Individual weapon attack stats
Damage Distribution
By hiding the career results in Battlegrounds Mobile India, players can be anonymous. This result helps other players to judge the gameplay of their opponent. It also shows detailed insight about the player, gun used, damage caused, headshot percentage, and more.
ALSO READ: BGMI: How to Hide Helmet in Battlegrounds Mobile India
How to Hide the Career Results in BGMI?
Follow the given steps to hide career results in BGMI:
Open the game on your Android or iOS device
On the Home screen click on the Arrow icon at the bottom right corner
From the Menu, click on Settings
Go to Basic Settings then look for Allow others to see your results option
Turn off the toggle to allow users to see results
That's it! All your results will be hidden.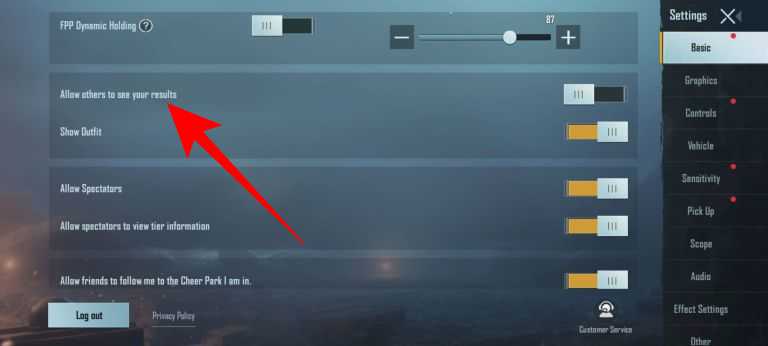 Your Career Results will be shown like this to other players: