Free Fire has brought Holi Event for all of its game players. The event is named as "Fight For Colours" which will continue till 29 March 2021.  This event is divided into three different stages and they are "Your True Colour", "Restore The Colours", and "Fight For Colours". Here, we are going to talk about the "Restore The Colours" event where you can win rewards for free.
All the three stages are interconnected, without clearing the first stage, you cannot go to the next stage. The first stage "Your True Colour" event, where all the players will be invited to join the event. All the players need to complete the questionnaire, once they are done they will be given true colour with three tokens.
Free Rewards in Free Fire Restore The Colours Holi Event
Now, the player can move to stage 2 i.e, Restore The Colours. At this stage, all the players have to gather colored paints from drops, then share duplicate colors with the teammates and collect ten colors in the Color Bank to restore all the colors to Free Fire.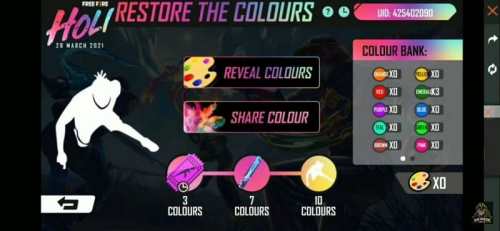 However, to win the rewards, the gamers must consistently collect as many diverse colors as possible. Click on the "Share Colors" option and share or exchange their duplicate colors with your friends.
If you win stage 2, Restore The Colours, then you will be rewarded:
Weapon Royale voucher – 3 colors
Cyber Bunnies Skyboard – 7 colors
One-Finger Push-Up emote – 10 color
All these rewards can be collected for free after you complete a task in the event. As we have said earlier also that you need to clear the first stage and then go to the second to win the rewards.
Once the player completes stage 1, they will move to stage 2. At this stage collect the colors in the Colour Bank and redeem all the rewards. The rewards are mentioned above.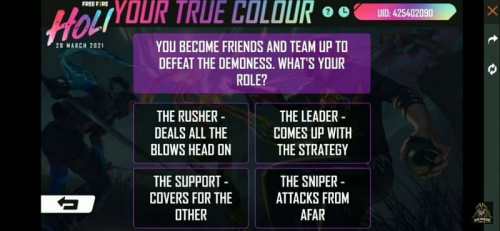 Make sure you collect more colors, as the more color you collect there are more chances to win the rewards.
The Free Fire Holi Event will be continued till 29th March, till the Holi day.