Garena has recently released a new version of Free Fire called Free Fire Max. The game has various weapons with different qualities. Every player has their own choice to select weapons in the game. As everyone has their own strategy to kill the enemies.
Snipers are used to killing faraway enemies and the shotguns are helpful for the closer fights. However, it depends on which game you are playing, Solo or Squad. So, if you are playing solo against a squad then you should be very careful while choosing the weapons.
If you want to play solo vs squad then make sure you keep the best guns with you, as you are fighting alone with the other four members. If you don't have proper weapons, there is very less chance to win the game.
So, let us check out the best Guns available in Free Fire Max.
Best Guns in Free Fire Max
Normally, a player can carry two weapons at the same time. Here, is the list of weapons that can be best.
1. Groza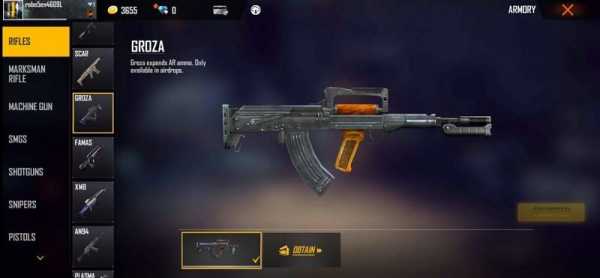 Groza is similar to SMG (Short Machine Gun). The players can get Groza through airdrops in Free Fire Max. It is considered one of the rarest Assault Rifles of the game. It delivers high damage and one can use this gun to kill close-range and long-range fights.
Damage: 61
Rate of Fire: 58
Range: 77
Reload Speed: 48
Accuracy: 52
Magazine: 30
Movement Speed:  58
Armor Penetration: 0
2. P90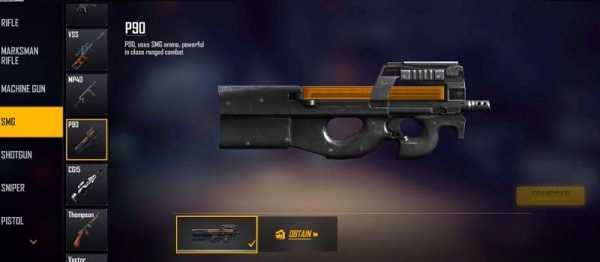 P90 is an exclusive gun in Free Fire Max that has done collaboration with Money Heist. This gun is available on the Luck Royale Menu in the Weapon Royale P90-Make it Rain spin. However, you need some Diamonds to spin like for 1 spin you need 50 diamonds.  This gun has the lowest damage rate but has a high rate of fire.
If you play Solo vs Squad games, then this P90 is the best gun to choose.
Damage: 49
Rate of Fire: 76
Range: 27
Reload Speed: 48
Accuracy: 44
Magazine: 50
Movement Speed:  63
Armor Penetration: 0
3. MP40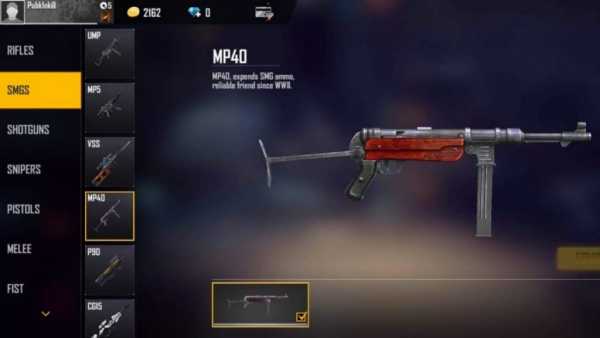 MP40 has huge power that only counters by its large firing rate. This machine gun is very stable even after having the highest rate of fire. In the short-range fight, this gun is extremely powerful. However, this gun can't equip any attachments except the magazine.
Damage: 48
Rate of Fire: 83
Range: 22
Reload Speed: 48
Accuracy: 17
Magazine: 20
Movement Speed:  63
Armor Penetration: 0
4. AUG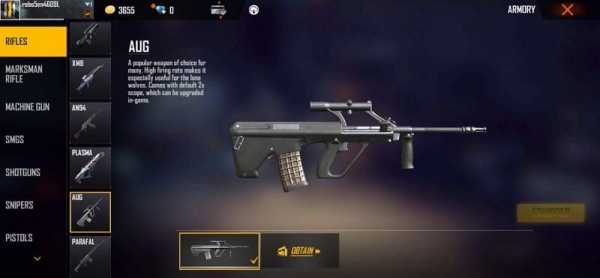 AUG guns are primarily available at the hot drops. At a close-range fight, it performs excellent, with a decent firing rate. The best thing is, it already comes with a 2x scope which is a good thing for players at the medium range who selects ADS.
Damage: 56
Rate of Fire: 61
Range: 56
Reload Speed: 48
Accuracy: 35
Magazine: 35
Movement Speed:  50
Armor Penetration: 0
5. KAR98K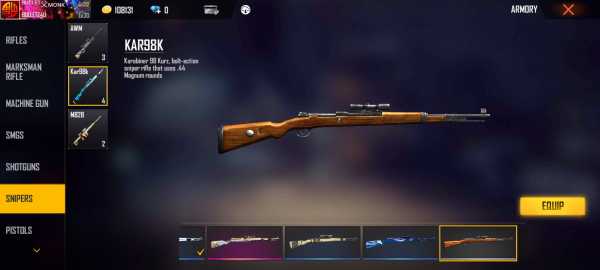 KAR98K is the best sniper rifle that is pre-equipped with an 8x scope. The firearms are stronger in this category and most of them are one-shot kills if aimed at the head. However, this is not as strong as AWM, but you can get this weapon everywhere. And, if the enemy is not wearing headgear, then this KAR98K gun can be a one-tap kill if you straight go for the head.
Damage: 90
Rate of Fire: 27
Range: 84
Reload Speed: 27
Accuracy: 90
Magazine: 5
Movement Speed:  65
Armor Penetration: 0
So, these are some of the best guns to use in Free Fire Max. However, we recommend you to play the game with whatever weapon you are comfortable with.